There's a snap in the air, and the crunch of leaves underfoot. It's time to fall in love with fall! From the moment the temperature dips (and through the daily discovery of even more pumpkin-flavored foods), we're all about autumn. And that means sweaters. Lots of them. And not just the kind you wear! We've woven a bunch of cozy ways to incorporate our favorite fluffy, fuzzy fall-time looks into our home design…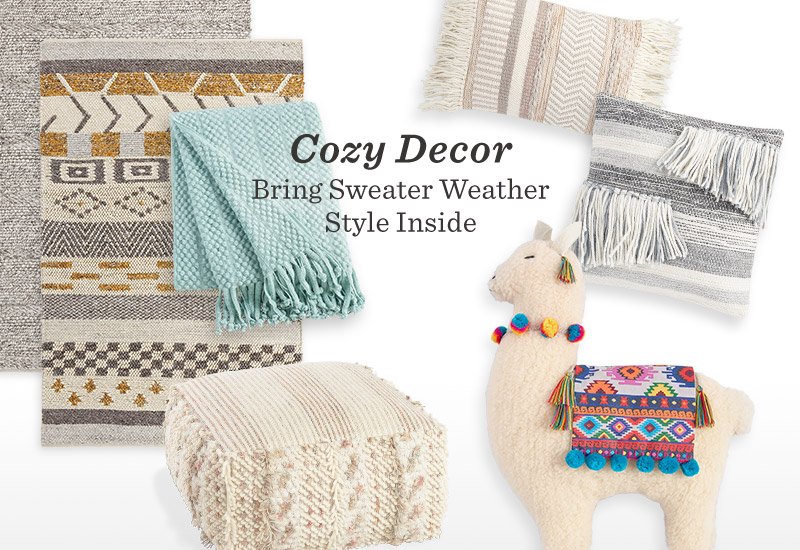 Ready, Willing and Cable
Your pullover prayers have been answered! Our tight-knit team of intrepid buyers have sourced a sweater-themed lineup of home decor items that will make you all toasty inside. Let's start with the floor, where our Sweater Rugs  give a little tuft love to your toes. Woven in chunky textures and an array of pretty prints, you're sure to find the perfect one. Let's also make sure you've got a cozy stock of Sweater Throws for a season of cuddling, reading, show-binging and football watching. (We won't tell if you stay under there all weekend long!) We love the neutral shades of these fetching finds–they work in any design scheme.
Pouf! It's Magic
If you're planning on staying in, invite your friends and offer them a seat on a Sweater Pouf. So soft and versatile, you'll love having a few of these on hand for guests, in a playroom or in your she-shed.
Llama-Rama
For a super-sweet and whimsical touch, think beyond the throw pillow and add our lovable Llama. Our exclusive and utterly adorable throw pillow is in the shape of a lovable llama wearing a colorful blanket with blue pom-poms and a pom necklace. With a fuchsia back for a pop of color, this Peruvian-inspired pal is a guaranteed conversation starter.
It's Better with Sweater
It's clear where we stand on the coziness, adaptability, beauty and whimsy of soft sweater decor. We look forward to seeing how you bring sweater weather indoors!