Spring is when nature comes out to play, and for our stylist Caitlin, the season of bloom and colors is one of the most inspiring times of the year. "I love seeing all the different hues from our surroundings come to life. That's why styling for the spring table is so wonderful—you get to play with colors and bring nature into your home," says Caitlin.
For this dining table, Caitlin created a spring tea party that's relaxed and playful. Read on as she shares her top tips for creating this tablescape at home.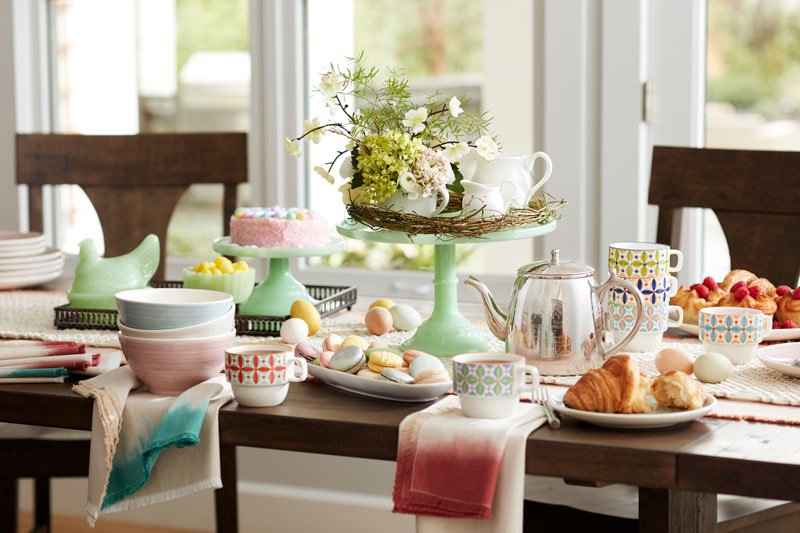 Tip 1: Pick a soft color palette
This isn't your traditional tea party; the color palette is soft yet fun, and the teacups add just the right amount of international flare. "My hope was to make people think, I want to be there. To invoke that feeling of enjoying a cup of tea with my friends, completely content…"
Tip 2: Invite nature to the table
Caitlin created the teacup centerpiece in under 10 minutes by mixing textures and putting the centerpiece itself on a cake stand to create height and dimension to the tablescape. "I don't think the table would be the same without the natural accent of the vines that ring the edge of the cake plate. The vines coupled with the pastel eggs (brought by our food stylist from a local farm) complete the springtime look."
Tip 3: Reach for a few unexpected pieces
"The Jadeite cake stand and rooster butter dish are not normally my style, but feel like something my grandmother would own, so I decided to add them into the mix. The color of this particular green glass is so unique; it has a soft radiance that's perfect for spring."
Tip 4: Think quality, not quantity
"I just came back from Sri Lanka, where tea is grown in the mountains; quality tea really makes a huge difference! For any tea party with friends, I always have sugar, honey, and a few delicious snacks within easy reach. It's also nice to have healthy options like dried fruits and nuts."
When creating the centerpiece, it's important to mix textures and bring out the different qualities of each element. "The fern has such a different pattern than the cherry blossom stems; each natural element has something unique to offer."
Directions:
1. Fill teacup halfway with rocks.
2. Add water to cover the rocks.
3. Start with the flowers, then add in branches. Layer in the greenery.
4. Add in additional rocks if needed to prop up the flowers.