My kitchen is one of my favorite spaces in my home, so I'm always on the lookout for ways to make it better. And since it isn't very spacious, exploring storage solutions is often a source of improvement. Recently, this led me to an amazing bar cart from World Market, which proved to be both practical and beautiful.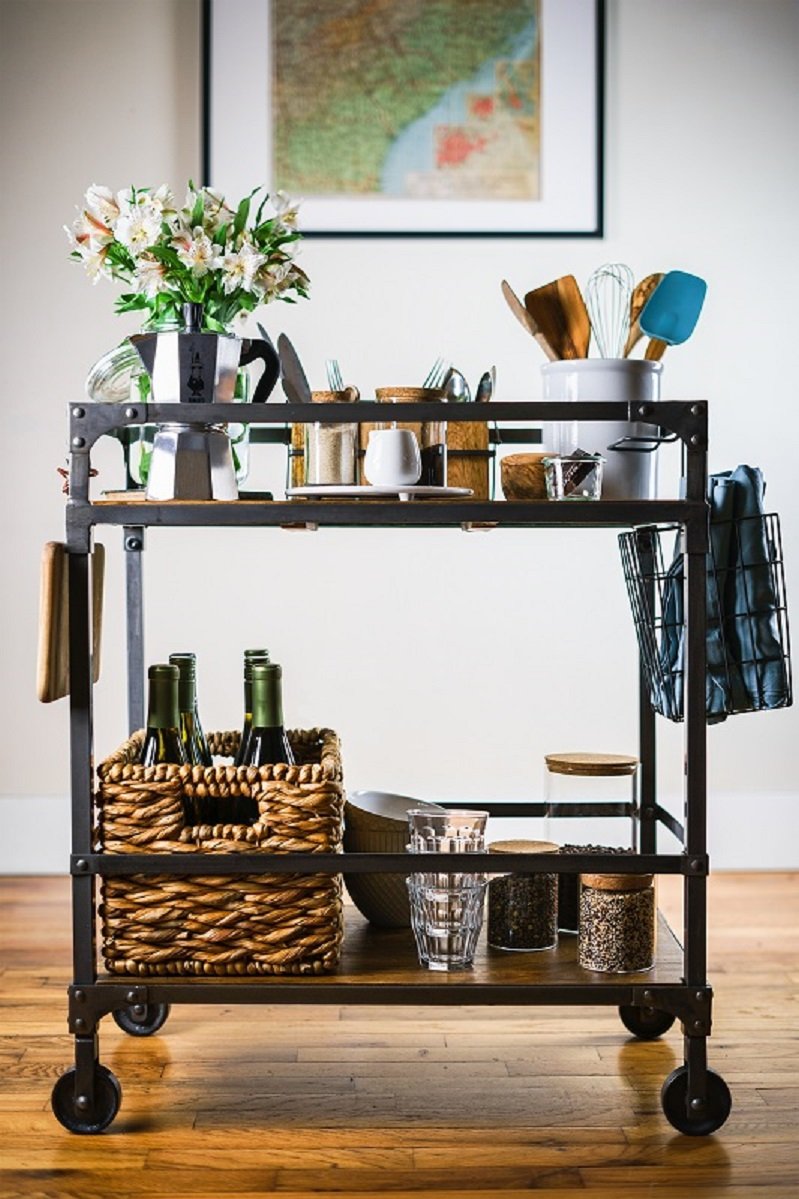 While this is technically considered a bar cart, I thought I could use it outside of its usual realm of storing spirits and see if it could also solve some of my storage woes. Pretty soon I'd begun hacking my way into creating a fresh addition to my kitchen. This bar cart already has tons of potential, so with just a little bit of hacking and imagination, I was able to turn it into a stylish and convenient kitchen cart.
Here are my 4 hacks for transforming this bar cart into a kitchen cart…
Tea or Coffee?
Set up the top shelf as a coffee or tea station. I use this cart to consolidate everything I need for coffee or tea without having to pull everything together from different places each time. I keep a Bialetti Moka Coffee Maker on top with some espresso and sugar for Americanos in the morning—and you could even include an electric kettle and a filtered water pitcher to have every part of the process within reach. Tuck a grinder in down below with a couple of mugs and you're set.
Store in Style
Take some of your silverware and utensils and put them on display. I can't tell you how many of my drawers and cupboards are full to the brim with spatulas, whisks, and other items. But since I use them so often, I'm always shuffling through my kitchen to find everything. Using a caddy organizer or porcelain jar to store these extras and essentials makes them both easy to reach and tastefully displayed.
All Aboard
Hang baskets or cutting boards on the side for easy access. I find myself using a cutting board pretty much every day, so finally using their hanging straps for what they're made for keeps them immediately accessible. I keep napkins in my basket either for meals or styling, but you could always fill them with recipe journals, rolled-up totes, and more. Grab one of World Market's S-hooks to hang cutting boards on the side rail, and check out their modular kitchen basket, which fits perfectly on this cart.
The Right Ingredients
Tuck in oft-needed ingredients all over the place to make use of the extra space. Coffee beans, flour, quinoa, lentils, salt—store anything you're using day-in and day-out on either level. I included some glasses, a few bowls, and a basket with bottles of wine to cover all my bases morning to evening.
These bar cart hacks work great in my small kitchen–I hope they serve as handy storage inspiration in your space, too!
Shop this post: 
Aiden Bar Cart | Bialetti Moka Express | Wood and Metal Flatware Caddy | Danieli Flatware Collection | Round Glass Jars with Clamp Lid | White Porcelain Utensil Holder | Olivewood Spatula | Round Olivewood Spoon | 10" Whisk | Olive Wood Salt Keeper | Small Glass Container with Cork Top | Stone Blue Buffet Napkin Set | Wire Modular Kitchen Storage  | Cheese Knives and Cutting Board | Small White Texture Bowls, White | Tempered Duralex Picardie Juice Glasses | Illy Whole Bean Coffee | Illy Ground Espresso Coffee | La Crema Wine
In store: Basket | Marble Round | Creamer | Spice Jar with Spoon
For more small spaces inspiration, be sure to check out our guide.