Who says you have to have a big house to have an organized home office? You can create a designated spot to work, pay bills or scroll the internet, even in a small place. If you streamline and focus on attractive essentials, you'll create room to work in style.
This tiny office is in the Seattle townhouse owned by my daughter Kylee and her husband, Lance. Space is definitely at a premium, but she wanted a quiet place where she and her husband could occasionally work from home. We brought in functional and stylish pieces from World Market that not only serve their needs, but make them excited to spend time there!
Determine Your Small Home Office Needs
When space is limited, you want to make sure you're making the most of it. How many people will use this space? What type of seating and desk space do you need? Measure your floor space before you shop and take note of any unique challenges your small space might have in furnishing it. Kylee's new office is on the third floor of their townhouse and the stairways have tight turns. Furniture that can be easily maneuvered up the stairs or that are simple to assemble on site are ideal.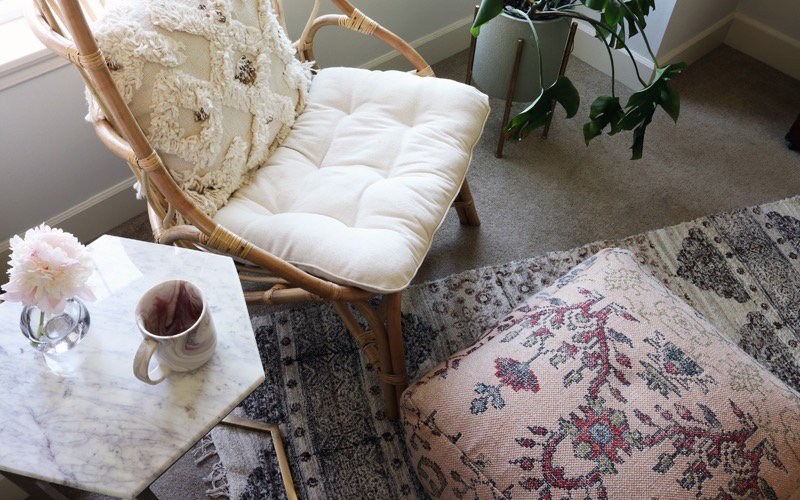 Streamline the Room
A tip for designing in a small space is to start with an empty the room. Once you can assess how much space you actually have available, only bring back in what is attractive, useful and fits comfortably in the room. Get rid of clutter and relocate items that won't fit.
In this office, two chairs, a desk and a small table from World Market make it possible for two to work together, without over-crowding the room. The streamlined furniture and lack of clutter offers room for plants, which bring an organic touch to the space. A handy memo board, pencil cup, lidded containers and notebooks help keep organization streamlined and attractive. A beautiful rug set diagonally in the space adds color and pulls all of the elements together!
Scale Matters in a Small Space
Look for pieces that are scaled appropriately to keep the space from feeling too heavy. That doesn't mean everything in the room has to be small. For example, the rattan chair makes a big statement in the room. It is tall, which adds visual interest and plays up the vault of the ceiling, but the the shallow profile and open design keeps it from overwhelming the room. An oversized pouf is perfect for putting up your feet!
Even if you only have a corner of a room, you can create space for your own small home office! One great thing about a tiny room is that it doesn't take much to totally transform it. By this time tomorrow you could be well on your way to better organization, productivity and a serene spot to work or scroll the internet.
Find everything you need for a small home office makeover at World Market, and the details on this makeover at The Inspired Room!
Shop This Post: Natural Rattan Fallon Cocoon Chair | Ivory Moroccan Throw Pillow | Marble and Gold Margaux Laptop Table | Marble Mugs | Gray Planter with Brass Stand | Blush Dhurrie Jaipur Pouf in Pink | Hand Block Print Linen Nabila Area Rug | Gray Wood Campaign Desk | Marble Cerami Storage Canister | Gold Kiara Pencil Cup | Mini Succulent Cement Pots | White Ceramic Coffee Canister | Blush Pink Ceramic Storage Canister | Gold Desk Lamp | Gold Wire Photo Clip | Charcoal Gray Elsie Upholstered Chair