You may know actress Shay Mitchell as Emily Fields from the teen drama Pretty Little Liars. If you haven't caught up with her lately, it's understandable; she's got a lot going on! Along with more acting roles, she's doing plenty of modeling work, co-authored a book and is an entrepreneur (look for her travel line coming soon!). And now she can add producer to her growing list of achievements. Her production company Amore & Vita's new offices needed a makeover, and though Shay's a decorating maven in her own right, she enlisted the help of Decorist Elite designer Stefani Stein and products from World Market. The result? A glam, gorgeous space that's also functional and comfortable.
Keep reading for a little Q&A with Shay Mitchell and more photos of her chic work space.
World Market: Tell us a little about your personal design style – both in decorating and fashion.
Shay Mitchell: I would say my style, both in decorating and fashion, tends to evolve from year to year! But as I get a little older I find myself gravitating towards more clean and chic staple items in my personal wardrobe and a new found love of vintage pieces mixed with a little old Hollywood glam for my home and office.
Shop this look: Gold Hammered Metal Drum | Ivory Printed Faux Cowhide | Driftwood Cristela Desk | Faux Fiddle Leaf Fig Plant | Aimee Arrow Baskets | Gold Hammered Metal Coffee Table | Marble & Gold Margaux Laptop Table | Faux Flokati Gunnar Chair | Ivory Flokati Stool | Camel Leanna Tufted Loveseat | Black & Bronze Metal Adjustable Floor Lamp | Moroccan Style Wedding Blanket Throw Pillow | Gold & Marble Leilani Tulip Dining Table | Black Leather Tyler Molded Chairs | White Stool with Tassels | Oatmeal Beige Chesterfield Sofa
WM: Do you have any favorite World Market pieces in your new space?
SM: I absolutely love the blush tufted chairs in my office! They were the first things I put on my mood board and loved building the space around those chairs. I also love the fiddle leaf fig because it is SO hard to keep those alive but every single time I come back to the office it looks great! Good silk trees are hard to find but those are amazing.
WM: We see on Instagram that you like to travel, what's one of your favorite destinations and why?
SM: Yes! Travel is a huge passion of mine. I would say one of my favorite places to visit is Morocco, mainly because the home decor aspect of it is incredible! I could spend HOURS in the marketplace shopping for my home and office!
Shop this look: Black Velvet Camela Office Chair | Smoke Black Radford Dining Table | Marble & Gold Maxwell Pencil Cup | Gold Mirrored Tabletop Tray | Etched Glass Globe | Gold Milayan Tall Shelf | Sana Brass Mirror
WM: And finally, we're dying to know: What new projects do you have in the works right now?
SM: Well, my new show YOU is currently airing on Lifetime which I am very proud of! And on top of that I launch my travel line, BEIS, in late October which has been a passion project of mine for so long. I was involved in every single detail of what we are making and the entire process was so fulfilling I can't wait to share it with everyone!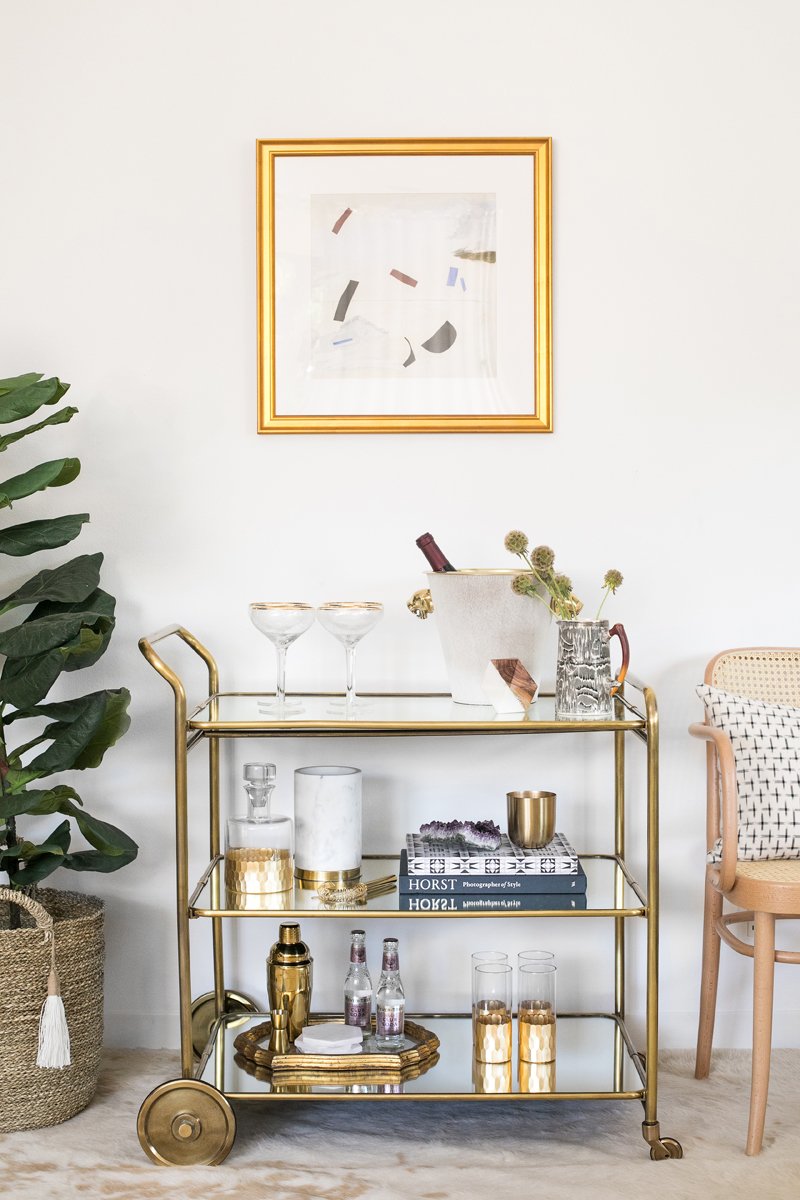 Shop this look: Gold Cole 3 Tier Rolling Bar Cart | Gold Faceted Highball Glasses | Gold Faceted Decanter | Gold Rimmed Bubble Glass | Gold Hammered Cocktail Shaker | Marble Tabletop Wine Chiller | Marble Coasters | Small Brass Planter | Gold Strainer