It's officially summer, which means our cocktails can get a little more fruity and definitely a lot more fun. This year we're all about perfecting the essential patio sip for intimate gatherings and large parties alike. Making a big batch of sangria is one of the easiest ways to stay on top of keeping your guests' glasses full while not having to become bartender half way through the night. But we've got a fun twist in a wine cocktail that will have everyone wanting a glass!
Best Wine Cocktail Idea Ever
Sangria ice cubes! Even better? We're dunking them in a glass of crisp rosé! Think of it as the ultimate boozy beach ball floating in a rose colored pool, keeping your coupe chilled not to mention looking incredibly chic. Who's ready to dive in!?
The secret to these sangria spheres is to omit wine from the sangria recipe. This way they can freeze into a more solid (not slushy) state and slowly infuse your glass of wine with all those necessary summer flavors. Think of it as a deconstructed cocktail where the sangria experience starts to unfold literally as the ice cube melts.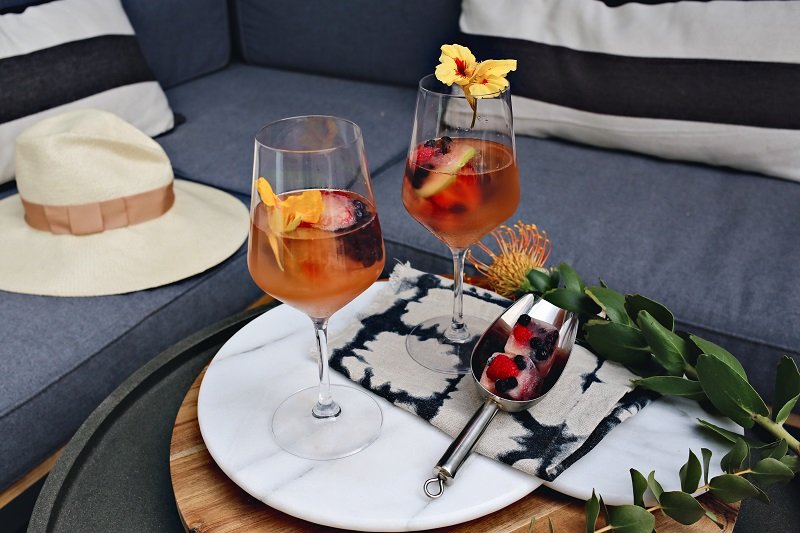 Red, White or Pink? Yes!
Prefer white or red sangria? No worries! These ice spheres work well with your favorite dry or crisp wine of choice (not to mention the bubbly kind), simply pair complimentary fruit based on your favorite kind. Think berries with red wine and stone fruit with white. This is the perfect recipe to experiment with different flavor combinations to create the ultimate sangria recipe of  your very own!
So let's break out those summer swizzle sticks and get a batch of fruity layered ice freezing overnight – it's time to sail into summer with this unexpected sangria sip. Cheers!
Shop This Post: Gray Wood and Metal Alicante Outdoor Occasional Collection | Faux Cement Accent Table | Shibori Table Runner & Napkin | Wooden Lazy Susan | Napa Tritan Wine Glasses | Silver Ice Scoop | Rosé Wine | Fever Tree Tonic Water
Makes 2 cocktails with 2 large spherical ice cubes