We love any drink you can whip up in under 15 minutes, which is why we're obsessed with this White Sangria Recipe. An equally delicious cousin of the classic red Sangria, this drink features all of our favorite things about the warmer months: citrus fruits, cold sparkling water, and crisp and fruity wines that are best enjoyed when chilled and stirred into a refreshing cocktail recipe.
White Sangria for Sunny Fiestas
So what makes this the "best" sangria recipe for spring (and summer)? Well, just look at it! There's a lot to love about perfectly round citrus slices inside a clear drink dispenser that screams, "Hello, summer!"
It's spring break or a summer vacation in a glass, and is guaranteed to make you feel more relaxed after a few sips.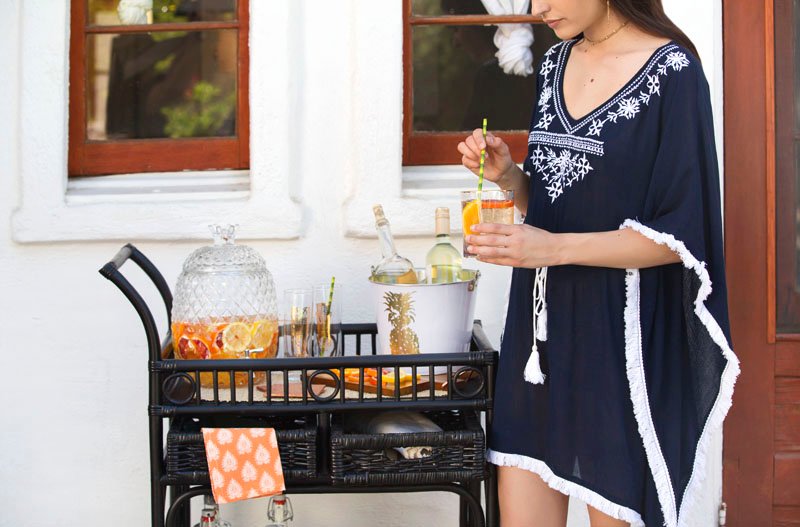 Another great way to invite calm into your outdoors is to have a stylish, self-serve bar cart at the ready so guests can pour, mix and swizzle ice in their glasses with ease.
How to Style Your Outdoor Bar Cart:
1. Place larger items like drink dispensers, buckets, wine bottles, and glasses on the top tier for easy access.
2. Use drawers to store napkins, straws, stirrers, spoons, and other bar accoutrement.
3. Place larger bottles (mainly used for top-ups and refilling the drink dispenser or pitcher) on the bottom row.
4. Unify the bar cart with a theme. For this recipe and bar cart look, we went with a tropical pineapple look, which was complemented by the Hawaiian-inspired dark rattan rolling bar cart.
So–grab a hold of your bar cart, drink dispensers and ice buckets and give this sangria recipe a try. Trust us. This one's bound to be your go-to warm-weather sangria this year.
Shop this post: Pineapple Drink Dispenser | Pineapple Ice Bucket | Tiki Glasses | Bar Cart