Valentine's Day is just around the corner and it is time to start thinking about what kind of treats you want to make for your sweetheart. I suggest wowing them with this deliciously adorable chocolate-heart-adorned Chocolate Raspberry Valentine's Day Cake!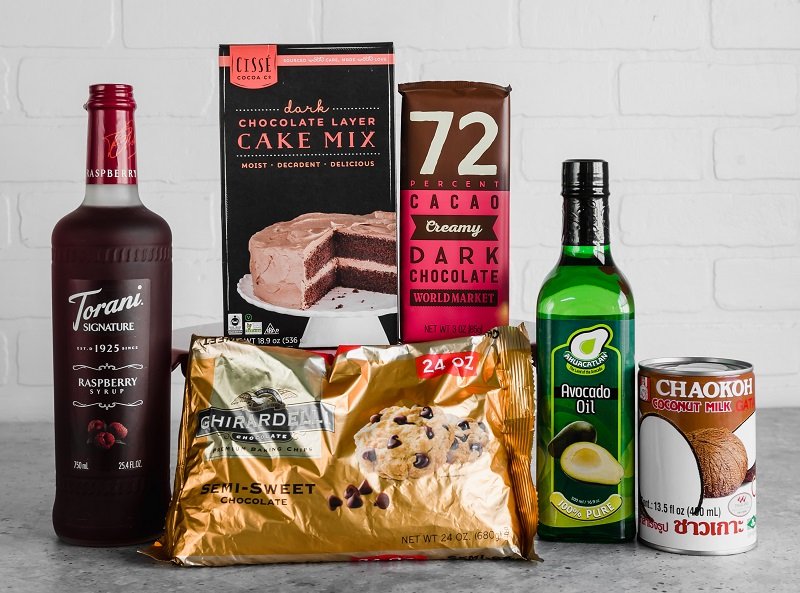 How to Make This Valentine's Day Cake
The cake itself is so yummy. I am not normally a box cake mix person but there is something to be said for convenience and this is hands down the best box cake mix I have ever used. Since Valentine's Day is a decadent holiday filled with chocolates, candy, hearts, and all things pink and red, I decided to make this cake just as decadent.
The confect is a dense, moist cake with coconut milk and avocado oil used in place of plain milk and oil as the box recipe states to use. I love the richness of coconut milk with chocolate. I also added in chocolate chips and fresh raspberries.
Instead of decorating this cake like I usually do, spreading buttercream over the sides, I left this one open to show the fun detail of the middle layer of frosting and raspberries.
You can pipe on any pattern you want, and this an example of what I did. You can also press more fresh raspberries into the middle layer if desired as well. The sky is the limit with decorating.
For the chocolate hearts on the top of the cake, these couldn't be easier to make. You only need chocolate and a candy/frosting piping bag, wax paper and heart templates on paper. Make a few for practice, and make a few extra in case these break while peeling off the wax paper and placing in frosting on the cake. I let these firm up at room temperature. I find when I freeze chocolate like this it tends to be more brittle when handling.
Enjoy Valentine's Day cake with your loved ones, and I hope this Chocolate Raspberry Valentine's cake is a part of your celebration!
Shop this post: Red Melamine Batter Bowl | White Bowls | White Plates | Torani Rasberry Syrup | Cisse Dark Chocolate Cake Mix | Ghirardelli Semi-Sweet Chocolate Chips | Dark Chocolate Bar | Avocado Oil | Coconut Milk
Makes one two-layer 8" round cake; 8-12 servings