Nothing beats a cold glass of iced tea on a sunny day, right? Better yet, how about using the sun itself to brew your tea? That's the idea behind sun tea, a method of brewing that exchanges the stovetop for the sun's natural heat. It's a fun and easy process, and you can easily make either a large batch or an individual batch—the choice is yours.
The flavor options for sun tea are endless, and after a recent trip to my local World Market store, I left with a whole range of tea blends. Among my favorites are matcha green tea, pineapple tea, and a classic hibiscus tea. I like using pre-made blends, but you can also combine different tea packets and make your own blend at home.
When making sun tea at home I usually use about 1 tea bag for every 6-8 ounces of water, but this can vary with the type of tea I use or with how strong a tea I want. After you make your own a few times, you'll be able to fine-tune your exact ratio.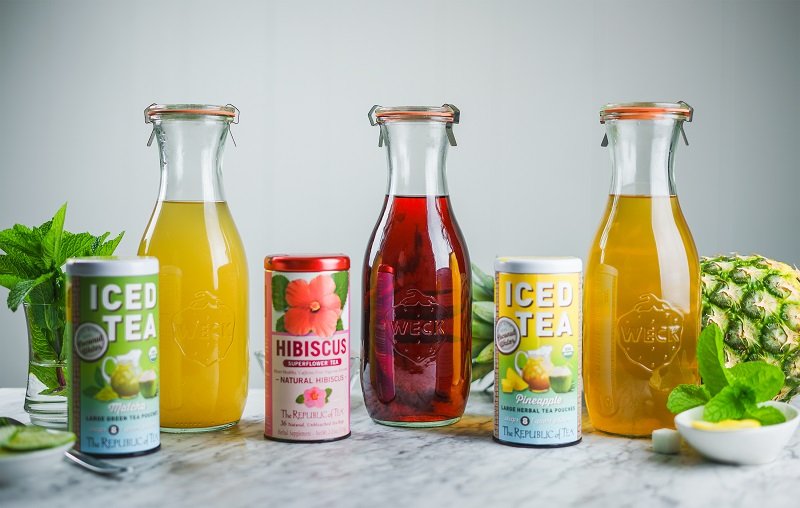 As you embark on your own sun tea-making adventures, I'll leave you with a few handy tips:
Use a clear glass (never plastic) container and sterilize it by washing it in the dishwasher or by cleaning it with hot soapy water to help prevent any bacteria.
Use filtered water.
Get creative: use either one type of tea or combine different flavors to make a blend.
Keep the tea-filled container in direct sunlight and cover it with a lid while it steeps.
Enjoy your sunny-day tea party!
Shop this post: Weck Juice Jars | World Market® Turmeric Mango Tea 15 Count
The Republic Of Tea Super Green Tea Brain Boost 36 Count | The Republic of Tea Natural Hibiscus Tea
Tall Iced Tea Glasses | Stackable Juice glasses | Embossed Wood and Metal Tray | Teal Napkin