Nothing feels more like summertime than a juicy burger from the grill and an ice cold beer. Believe it or not, I am not much of a beer drinker. But fresh sliders and a cold brew on the back patio? Nothing is better than that! And now that the patio is perfectly furnished, I keep thinking up ways to get out there, entertain, and enjoy the great weather.
Make It a Date
Chilling and grilling with my man is such a great day date on a slow weekend while the kids are out of the house for summer camps or playdates with friends. Steve and I both love cooking and eating outside, so kicking off the summer by grilling sliders together was the perfect way to start the new season.
Better Your Burger at World Market
Now, it is no secret that when I am planning a party, large or small, World Market is my first stop and usually my only stop! While walking up and down the store, I always find exactly what I need to pull a meal together. World Market does summer so well, from decor and dining sets to food and beverages – they have so many fun things that I wouldn't be able to find elsewhere. For this meal, once I decided on a BBQ date, I headed over and found so many toppings, sauces and beers that take a regular backyard burger and turn it a into a delicious meal. Did you even know that there are different flavors of ketchup? World Market has 'em!
Sliders With all the Fixings
It's easy to throw together some simple sliders and create a topping bar of sorts so that each one can have some flavor variety. I like having the toppings out of their jars and easily accessible, especially if I am entertaining a lot of people. I got the PERFECT little tray for each topping and a great ice bucket to match. But my favorite find was the classic red burger baskets. It's all in the details and World Market makes it so easy to find everything you need, in-store or online! I even found potato chips that look like french fries! I'm not kidding, exploring your local World Market store will take both your party aesthetic and food flavors to the next level. If you have a free afternoon, take a stroll through World Market and gather ideas. After you're home, crack open a cold beer and plan your own summer BBQ bash!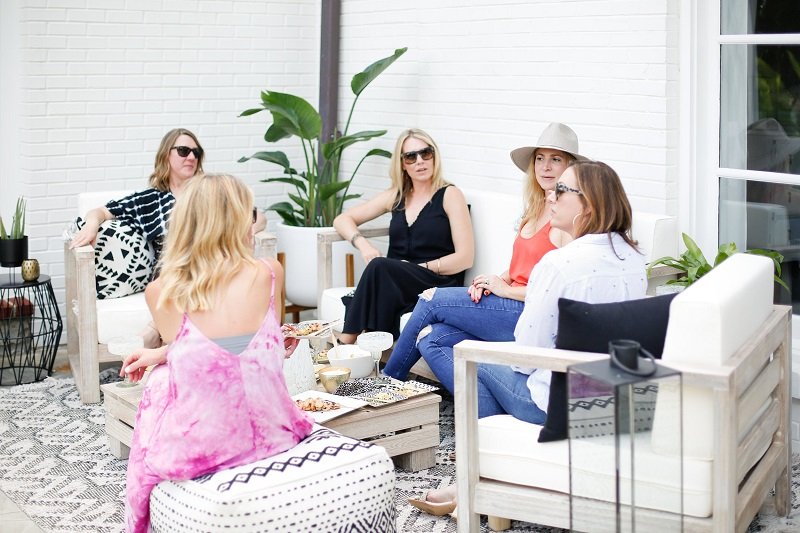 Discover more outdoor entertaining ideas for your space, and get details about Landyn's backyard makeover and BBQ bash, here! 
Shop This Post: Sevilla Outdoor Collection | Outdoor Emerson Rug | Black Octavia Outdoor Stool | Cargo Lanterns | Black Outdoor Pillows | Black and White Geo Outdoor Pillow | Marbled Carmen Glassware Collection