Authentic Oktoberfest Beer Tasting Party
What began as a celebration of a royal wedding more than 200 years ago has morphed into a beer-centric festival lasting more than two weeks. Although it's celebrated through the entire month of October in one city or another across the globe, the true Oktoberfest celebration actually begins in Munich in late September. Even if we can't hop a flight to Germany to attend the bash in our lederhosen with the locals, we can bring the celebration to us. Hosting your own Oktoberfest beer tasting party, complete with authentic touches, is actually quite simple.
In Germany, all of the beer served at Oktoberfest must be brewed in the Munich city limits. It's German beer or nothing! Grab a selection of German beers for your guest to sample, or follow the locavore vibe by grabbing German style beers from local breweries. Or both! It's your party, the more beer the better, am I right?
Set up beer flights:
Give your guests a small taster glass (these juice glasses are the perfect size and shape for beer sampling) and pour the beers one at a time. Leave the rest of the beers to chill in a tableside cooler (like this one!)
Give your guests a way to record their reactions. A simple note sheet, like this printable one, is a great way for your guests to figure out what they like and what they don't. Some people love malty beer, some can't get enough of the hoppy ones. There is no wrong preference!
Have your guests rinse glasses between beers. Just provide a bottle of tap water and a small bucket for your guests to swirl some water in their glasses, and then dump, to make sure the glasses are clean between samples.
Move from tasters to pints. Once all the beers have been sampled, break out the big steins and pints and let your guests fill a glass with their favorite!
Food:
Not only is food an indelible part of any Oktoberfest party, it's a must when plying your friends with booze. Make sure to have plenty of snacks, finger foods work best in a setting like this. Try to keep with the authentic vibe of your German party with foods that fit your theme.
Traditional Oktoberfest foods include: sausages, cured meats, pretzels, potato dumplings, cheese noodles, potato pancakes, sauerkraut, and a spiced cheese-butter spread called Obatzda. To keep your wits about you, strive to make just a few dishes yourself and buy the rest. World Market has an excellent selection of pretzels, cured meats, cheese, German sausages, sauerkraut and apple onion-jam to round out any snack table.
I only made homemade soft pretzels (always a crowd please with the added bonus of making your house smell amazing as they bake!) and a simple yet completely addictive Obatzada cheese spread. Everything else I bought. Makes for easy set up!
Stock up on cheese and meat. Everything from sausages to salami, meat is a must for your authentic Oktoberfest beer tasting party. Cheese, from the harder types to the spreadable kinds, is much needed for your Oktoberfest food table. Both go beautifully with German beer, easy to eat, and very filling.
Plenty of pretzels! You really can never have enough. Make a batch of the soft kind, while passing around a bowl of the crispy variety. You can even use them as decorations, string them together to make garland!
Don't forget the condiments! Germans are all about the mustard, savory jams and sauerkraut. Stock up; it's a perfect way to add an authentic touch!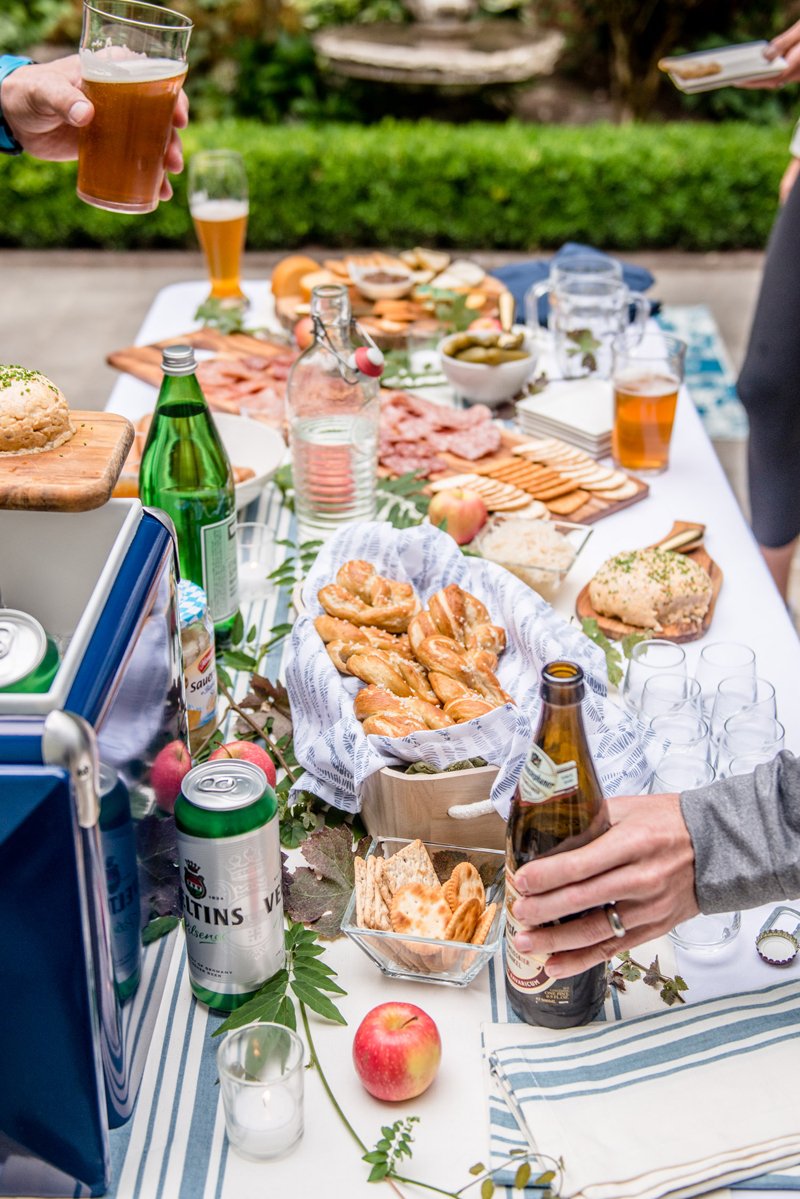 Oktoberfest beer tasting party lingo
"O' zapft ist!" For the past 60 years Oktoberfest has been kicked off by the mayor of Munich yelling, "O' zapft ist!" (it's tapped!) after the very first keg of Oktoberfest beer has been tapped for consumption.
"Bierleichen" Make fun of people who can't hold their liquor. Really, this is always a good idea, but at the festivals in Munich, those who get too drunk and pass out are teased with the label "Bierleichen" (beer corpse). Please, know your limits.
"Prost!" Any good beer-loving Oktoberfest attendee is ready to raise a pint and call out "Prost!" at a moments notice. After all, it's the German word for cheers.
Ein bier, bitte! A beer, please! Because no matter how much you've had to drink, you should always know how to politely ask for another.
Download your copy of The Beeroness' Beer Tasting Printable before your Oktoberfest beer tasting party! For more information on this awesome Oktoberfest celebration and more recipes head over to The Beeroness.
Shop the Post: Retro Cooler | Appetizer Plates | Cheese Knives | Napkins | Leaf Napkin | Wood Basket | Wood Charcuterie Board | German Sausages | Sea Salt | Assorted Crackers | Cheddar Wheel  | Brie Wheel | Blue Villa Napkin | Smoked Gouda | Weck Jar | Honey Apple Cider | Gherkins | Teardrop tasting glasses | Mustard Seeds | Sauerkraut | Blue Villa Table runner | White serving bowl | Bottle | Laughing Cow Cheese | Dimpled stein | Small white bowl | Wooden Charger | Olive wood cheese board | Glass Bowl