Yes, you read the title right! These Nutella stuffed cookies take holiday cookies to the next level! It's a chocolate cookie filled with Nutella and caramel, then dipped in caramel chips and decorated with holiday sprinkles! We wanted to create an over-the-top holiday cookie that all caramel and chocolate lovers would go crazy over, and these cookies do not disappoint.
The ingredients we used in these cookies are so good! We used Guittard unsweetened cocoa powder, Nutella chocolate hazelnut spread, Nielsen-Massey Vanilla, which is sourced in Madagascar, Gaucho Ranch Dulce de Leche caramel sauce and Atlantic Sea Salt to create the best quality cookie possible.
The most unique part about these Nutella stuffed cookies is the filling. The caramel and Nutella combination are baked throughout the cookie and you can taste the perfect combo in every bite. They are messy to make, but it's a good kind of mess and worth it when you bite into one of these warm chocolate cookies. You'll be so happy you took the extra step to fill them with the delicious caramel and Nutella blend!
Chocolate Caramel Nutella Stuffed Cookies
To make the recipe, you use a simple chocolate cookie recipe base. Just beat the butter and sugar together until light and fluffy and add in the vanilla extract and eggs.
In another bowl, add in the flour and sift the cocoa powder over the top. Add in the salt and the baking soda.
Combine the dry ingredients with the butter mixture and mix slowly until combined.
Chill the dough so it's easier to roll the cookie, after it's been stuffed. Once the dough has chilled a few hours, prepare the caramel and Nutella jars. Using a cookie scooper, scoop a small ball of dough and make a small hole in the center. Add in a teaspoon of caramel and a teaspoon of Nutella to the center. Add another cookie dough scoop on top and roll together. It doesn't have to be perfect and it's okay if the caramel and Nutella comes out on the sides. They bake so well together!
Bake the cookies in a 350 degree oven for 7-10 minutes. Let the cookies cool.
While the cookies are cooling, melt the caramel chips in a bowl in the microwave for about 2 minutes. Remove and stir until smooth. Once the cookies are cooled, dip one side into the caramel chips.
Add sprinkles from the Holiday Treat Toppers Box Set to the cookies and enjoy this over-the-top holiday treat!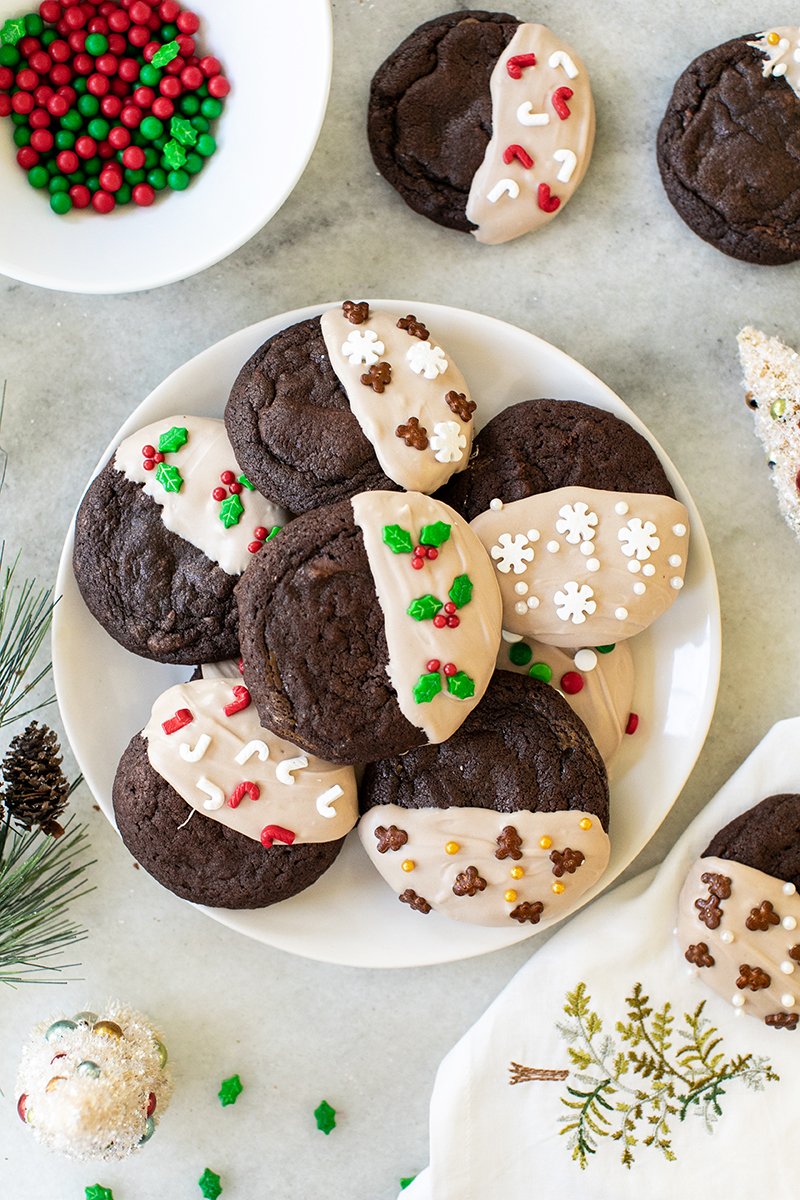 Shop the Post: Guittard Cocoa Powder | Gaucho Ranch Dulce de Leche | Holiday Treat Toppers Box | Nielsen Massey Vanilla Extract | Embroidered Evergreen Tree Napkins | Snowy Pine and Pine Cone Garland | Coupe Salad Plate | Retro Bottlebrush Tree | Parchment Paper | Ghirardelli Baking Chips | Nutella