'Tis the season for delicious Christmas Baking! Today I want to share with y'all a South Texas favorite, the delicate, crumbly, beloved Mexican wedding cookie. These babies are famous here in Texas. The flavor combinations are endless, and they're always, always a hit at any party or fiesta.
These crumbly shortbread cookies dusted in confectioner's sugar are often made for weddings and quinceaneras. This season, I'm revamping the traditional recipe for the holidays with the help of World Market to bake, style and present in time for a small holiday cookie and wine party. Because let's be real – cookies and wine are the ultimate combo.
With the rush of the holiday season, I thought it would be nice to invite a few of my girls over for a cookie and wine party – a chance for us to enjoy a glass of wine, nibble on a few cookies and take a breather from the busyness of the holiday season.
Luckily for me, I can find inspiration, shop and have all my Christmas décor for my party shipped directly to my doorstep with the help of World Market.
I lined my table with a Red Stripe Linen Table Runner that added a pop of holiday red with a bit of warmth.
Next, I added these adorable wood wine boxes from World Market. Available in a set of three, they add height to my table. One is printed with the word "Thanks" and one is printed with "Cheers" in gold foil, while a third has a die cut bottle-shaped hole in the back to reveal the wine label. They lend the perfect touch of wood to my table – plus they make great gift boxes to send my guest home with!
To display my cookies, I picked up a Gold And Marble Pedestal Stand. Made of sleek white marble set atop a gold-finished metal frame, it's perfect for showcasing everything from artisanal cheeses to a five-layer cake. Available in small and medium sizes, the stands nest for easy storage.
I then added Gold Rim Optic Glass Stemless Wine Glasses to the table. Finished with gold metallic rims, each is made from optic glass that catches and refracts light to mesmerizing effect. They are truly stunning.
Mexican Wedding Cookies
Now let's bake!
I'm adding a little spice to my cookies by using World Market Chipotle Lime Cashews. The dash of spice, plus the hint of lime work beautifully to elevate this traditional cookie – plus it pairs perfectly with wine.
Traditionally these cookies are rolled in powdered sugar, but today we are mixing it up by adding a splash of chocolate to our powdered sugar. When the holiday season arrives, I stock up on World Market Milk Chocolate Cocoa Mix to serve the kiddos with their cookies – plus I heard Santa loves it. When testing this recipe, I spotted it on the counter and thought, why not? The results were delicious – cocoa and cashews, a true dream team.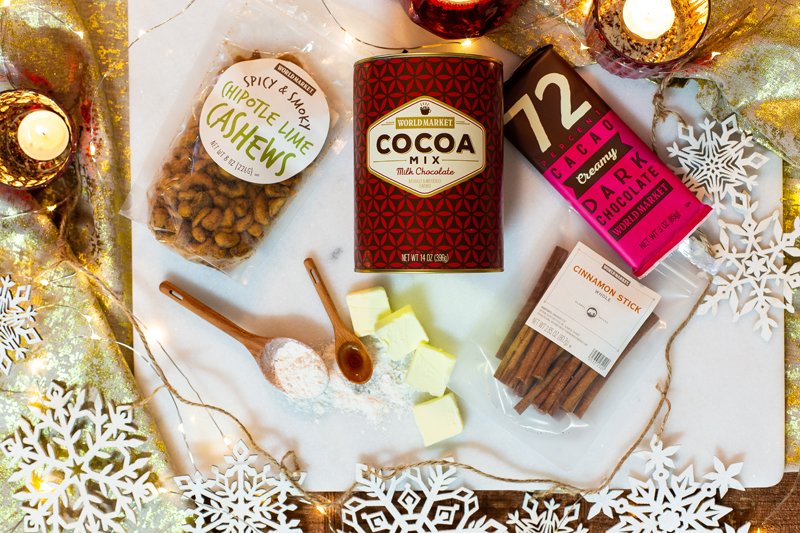 My cocoa cashew Mexican wedding cookies are crumbly, spicy and so easy to make. Here are a few tips to ensure your cookies bake up wonderfully. It's essential to use room temperature butter as this helps your cookies bake light and evenly. I place my sticks of butter on a small plate before I go to bed and am set to bake in the morning.
When processing your cashews in the food processor, be careful to not over process the cashews or they will turn into nut butter, which is delicious, but not what we need for this recipe. I like to pulse the cashews, until they're crushed and powdery. This gives you crumbly, nutty flavor.
Baking these cookies one tray at a time makes for a better-baked cookie. Overloading the oven results in dropped temperatures, which increase the risk of unevenly baked cookies. Nothing is worse than preparing an entire batch of batter to only have half bake correctly. It's a little time consuming but worth it in the end.
Store cookies at room temperature in an airtight container or gift in a cute World Market holiday tin along with one of the wooden boxes featured below. They will keep for one week.
I serve my cookies with Chardonnay. Chardonnay has crisp, buttery notes that pair well with rich shortbread and smooth butter cookies.
I hope you give these cocoa cashew Mexican wedding cookies a try. A festive cookie to gift, serve at holiday parties or nibble on while watching holiday movies.
I had the best time shopping online and at my local San Antonio store for this sweet evening.
For more Baking essentials head over to World Market.
Shop the Post: Wooden Wine Boxes | Gold and Marble Large Pedestal Stand | Red Stripe Linen Table Runner | Red Mercury Glass Votive Candleholders | Wine Glass Gold Trimmed  | Chipotle Lime Cashews | World Market Milk Chocolate Cocoa Mix | 72% Dark Chocolate Bar | World Market Cinnamon | Natural Wood Nesting Measuring Spoon Set | Glittered White Wood Snowflake Garland | Gold Foil Print Linen Table Runner | White Micro LED 150 Bulb Battery Operated String Lights | Thanksgiving Sentiment Porcelain Salad Plates | Gold Luxe Textured Nonstick Baking Sheet