Linzer cookies are always a welcome addition to any holiday cookie plate! This traditional Austrian treat is made from two almond cookies that sandwich a filling of raspberry jam or preserves. Their nutty, fruity flavor is a refreshing change from the omnipresent candy canes and chocolate boxes of the season.
Classic Linzer cookies are already quite festive, with their peek-a-boo jam filling, but to really add to the Christmas spirit, I decided to turn these Linzer cookies into sweet little holiday wreaths. A fluted cookie cutter, a bit of sparkling sugar, and some decorative leaf and berry sprinkles are all it took to transform these cookies into cute Christmas treats.
The cookies have a double dose of almond flavor, from both ground toasted almonds and marzipan mixed into the dough. Toasting and grinding the almonds does add an extra step, but it's completely worth it for the depth of flavor you will achieve. Plus, since the cookies are made with a cookie dough mix, most of the other work is already done for you, so they still come together quite easily.
If you're an almond lover, this is about to become your new favorite cookie! And if you've never felt strongly about almond desserts, well, maybe this will be the cookie to change your mind. Here's what you'll need to make these Linzer Cookie Wreaths!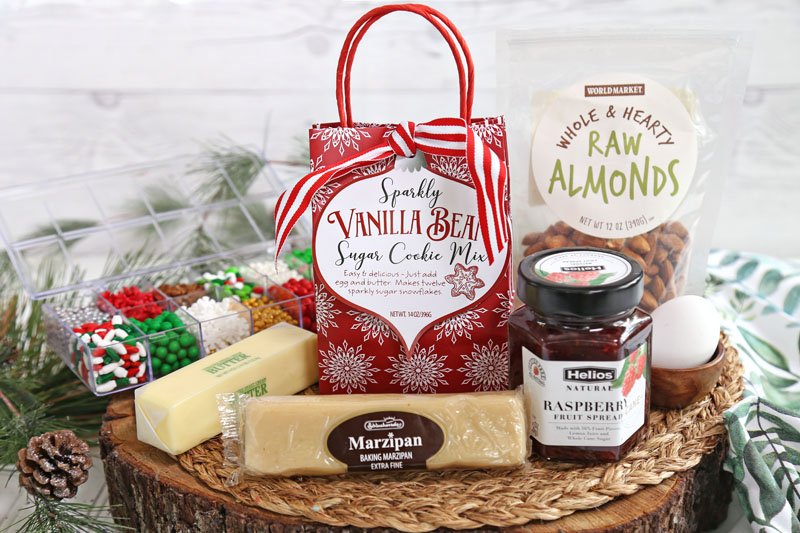 Linzer Cookies: A Step-by-Step
The first order of business is toasting the almonds. You can buy almonds already roasted, but I always prefer to toast my own for baking. This way they have the freshest flavor, and I have complete control over how crunchy and toasted they are.
Spread the almonds on a baking sheet (I like this beautiful nonstick gold textured baking sheet!) and bake in the oven for about 10 minutes, stirring every 3-4 minutes. You'll know they're done when they take on a darker color and give off a deliciously toasted fragrance.
Once the almonds have cooled, place them in a food processor and process until they're coarse crumbs. At this point, you don't want to keep going, because the oil in the nuts can start to turn the almonds into nut butter. As delicious as that sounds, that's not the goal for these cookies, so keep an eye on the almonds and stop when they look nice and nubbly, like in this picture.
Here's how we're going to make sure our almonds get ground nice and fine: by adding the sugar cookie mix to the food processor! The flour and sugar coat the almonds and prevent it from becoming nut butter.
Process everything together for 10-15 seconds, until everything is a fine powder, and when you rub it between your fingers, you can't feel any big chunks of nuts.
Now let's make cookie dough! The other "secret weapon" in this Linzer cookie dough, in addition to the toasted, ground almonds, is marzipan. Marzipan is a soft paste made from almonds and sugar. It not only adds great flavor to these cookies, but also helps keep the dough tender and prevents it from getting too crispy when baked.
Beat the marzipan and butter together in a mixing bowl until creamy and smooth. Most marzipan straight from the package will incorporate easily, but if you happened to buy an older batch that's a little stiffer, consider grating it with a cheese grater before adding it to the butter, so you have an easier time mixing it in. (I've never had this problem with any baking marzipan I've ever purchased from Cost Plus World Market—it's always been perfectly soft and fresh.)
After adding an egg and the nut/flour mixture, your dough is done! It should come together easily and be soft but not too sticky. You can see the flecks of almond in the dough above—isn't it pretty? Chill the dough to make it easier to roll out and work with.
Roll the chilled dough out between sheets of parchment paper or waxed paper. It's easiest to work with when it's fairly cold, so if it starts to become too soft and difficult to work with, pop it back in the refrigerator for a few minutes to chill again.
I used a set of fluted round cutters to make my wreath shape, but you can always use plain round cutters if that's what you have. You'll make 2 sets of cookies—one with a circle cut out of the center, which will be the top cookie, and one without, which will be the base.
Let's make these wreaths glimmer! The cookie mix actually comes with white sparkling sugar, which is perfect! If you want green wreaths, you can either buy green sparkling sugar, or combine the white sugar with a touch of green food coloring in a plastic zip-top bag. Rub them together until all of the sugar is green.  You can even do what I did, and make half white and half green for a pretty cookie assortment.
Cover the top Linzer cookies with sparkling sugar—either by pressing the tops into a bowl of sugar, or just sprinkling the sugar onto the tops of the cookies when they're on the baking sheet.
The leaf and berry sprinkles tend to melt a bit when baked with the cookies, so I like to add them halfway through the baking time. This way, they bake enough to attach themselves to the cookie, but they don't lose their pretty shape. You can also add them after baking by attaching them with a bit of melted white chocolate.
One last step! These wouldn't be Linzer cookies without the jam filling, right? Once the cookies are baked and cooled, sandwich them with a generous spoonful of raspberry fruit spread.
The jam will start to soften the cookies once they're assembled, so if you like crisp sandwich cookies, make sure you assemble them shortly before serving. If you like softer cookies, you can assemble them a day ahead of time. I'm on Team Soft Cookie, and have never regretting making these in advance!
Sweet Serving Suggestions
These Linzer cookies are a wonderful addition to any holiday cookie tray, Santa plate, or Christmas party spread! They look absolutely beautiful served on a wood and antiqued brass tray. Adding a few decorative pieces with woodland accents, like these leaf-printed glasses, embroidered evergreen napkins, pinecone napkin rings, and this snowy pinecone garland, really reinforces the holiday vibe and the natural beauty of the cookies.
Shop the Post: Pelican Bay Vanilla Sugar Cookie Gift Bag | Baking Marzipan | Whole Raw Almonds | Raspberry Fruit Spread | Holiday Treat Toppers Set | Wood and Antiqued Brass Hudson Tray | Yellowstone Stemless Wine Glasses | Embroidered Evergreen Napkins | Mini Pinecone Napkin Rings | Snowy Pinecone Garland | Natural Fiber Round Placemat | Wood Bark Pedestal Stand | Gold Luxe Textured Nonstick Baking Sheet