It is with great trepidation that this northerner approaches the sacred foods of not only the south, not only Kentucky, but the Kentucky Derby, that holiest of southern proceedings. But at the risk of letting a little bit of politics steep into my julep along with the mint, if we can't wander freely into each others' cultures with eager curiosity and feel welcome, then what is the point of it all?
With that bit of reflection taken care of, we're off to the races! And what good is any sporting event without something to drink and something to nibble?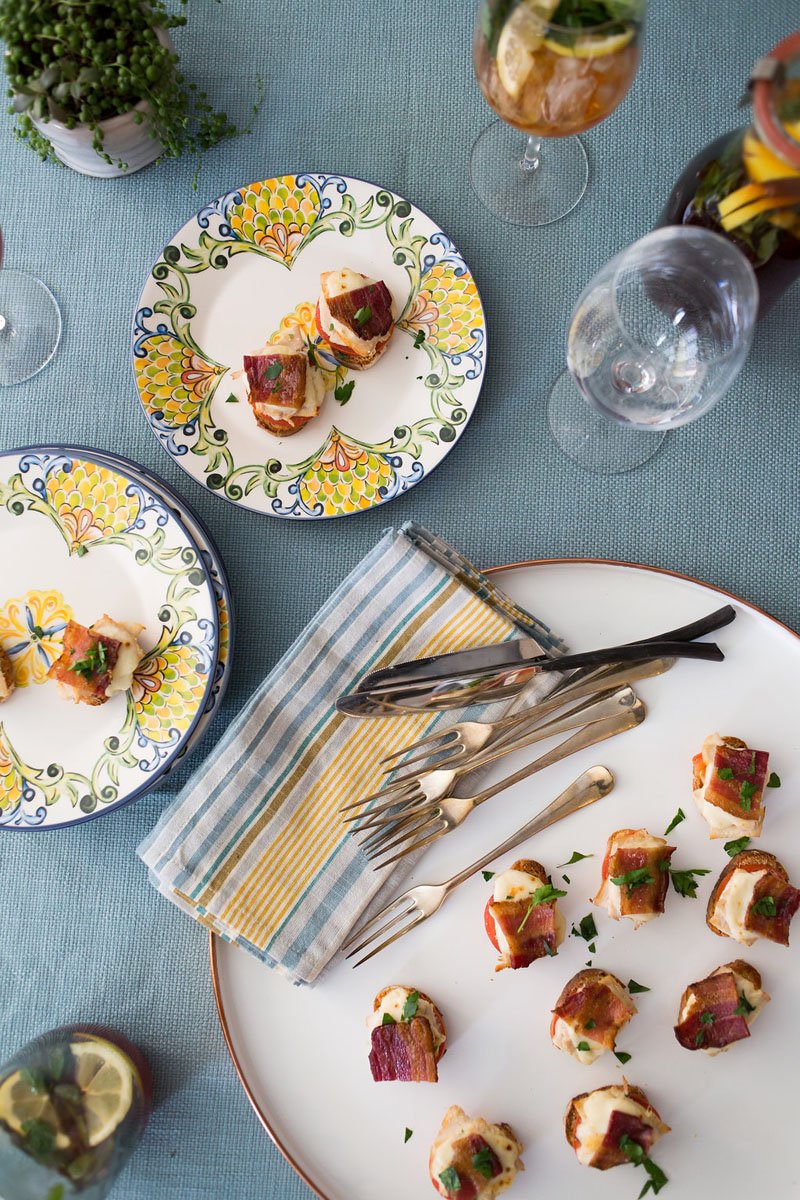 Let's all head to the Derby, where the Mint Julep reigns supreme. The Mint Julep cocktail is well over 100 years old. It is said that 120,000 Mint Juleps are swilled over the two days of official Kentucky Derby time. That's a lot of bourbon and mint leaves. I decided—since I have no claims on authenticity to begin with—to do a mash-up of the Mint Julep with another classic southern beverage: Sweet Tea.
I poured it in BIG glasses over crushed ice with fat mint sprigs and slices of lemon. My tasters from north and south alike pronounced it fairly gulp-able.
As I was tinkering with the classics, I took the traditional Hot Brown Sandwich (also almost 100 years of age) and made it into a crostini, and added Gruyere, a Swiss alpine cheese. (I know, I'm nuts.) Look at these sunny little plates though—how pretty! And what about these cheery striped napkins? Serve it all up on a very hospitable serving tray, and if you close your eyes, it's as if you're at the Derby.
Come May 6, you will find me sitting in front of the television in a big, wide-brimmed hat with a Hot Brown Crostini in one hand and a Mint Julep Sweet Tea in the other. What if there is a horse named Mint Julep Sweet Tea? Seriously, that's the one I'd bet on.
Recipes:
The Hot Brown Sandwich is the state sandwich of Kentucky. It was invented in 1923 at the Brown Hotel in Louisville as a reward for the late-night revelers who attended their legendary dance parties. The Hot Brown is a warm sandwich made with turkey, bacon and Mornay sauce, usually with tomatoes and sometimes with ham as well, layered up and served in a nice and messy way to be eaten with a knife and fork. For the Derby, however, we need to be a bit more refined, so I turned the sandwich into little crostini.
This drink was pronounced heaven by all of my tasters, including a North Carolina native who is particular about her southern beverages. A blend of two of the south's most iconic drinks – the Mint Julep and Sweet Tea – it makes you yearn for a front porch and a slow afternoon.
Shop This Post: Crystal Glasses | Peacock Salad Plates | Jardin Stripe Napkins | White Tray with Copper Base