During the cold winter months, there's nothing I enjoy more than warming up with a big mug of hot cocoa topped with fluffy marshmallows. It's a childhood tradition that I've gladly carried into adulthood. Hot cocoa is so cozy and comforting, it's the ultimate holiday drink!
My love of hot cocoa inspired these Christmas hot cocoa brownie cups. Rich, chewy brownies are formed into cup shapes that hold a soft, supple ganache flavored with hot cocoa mix. They're topped with a sprinkle of candy cane pieces, for some seasonal flair, and the cutest marshmallow stars.
These hot cocoa brownie cups may not be able to warm me up after a cold afternoon sledding in the snow, but they provide a different type of pick-me-up that's just as welcome. A few of these in the afternoon can brighten even the gloomiest winter day!
I love that these hot cocoa brownie cups are fancy enough to serve to guests at Christmas parties, but are easy enough to whip up in between holiday errands and decorating. The brownies are based on a mix, so they're practically foolproof, and you can easily divide the recipe preparation up between several days if you find yourself short on time. Here's what you'll need to make hot cocoa magic!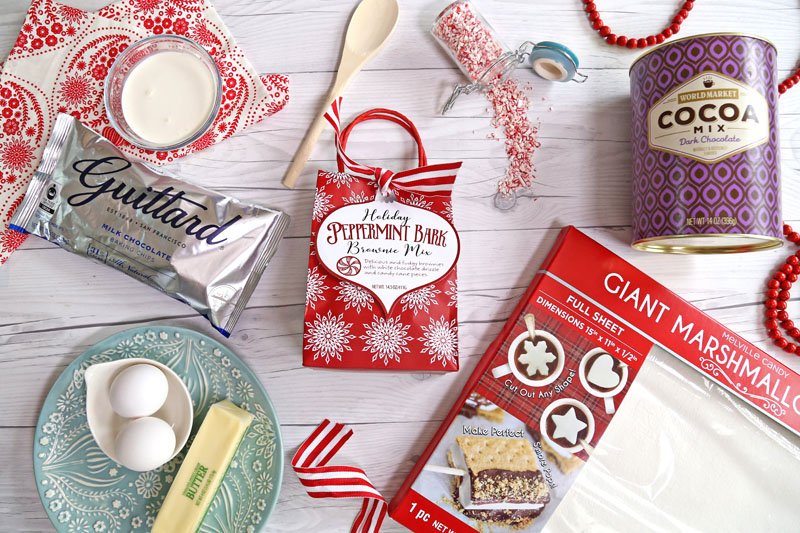 The hot cocoa ganache filling will need some time to cool and thicken, so it should be made first.
Combine the milk chocolate chips, heavy cream, and hot cocoa mix in a medium microwave-safe bowl. If you're not a big milk chocolate fan you can use other chips if you'd like—semi-sweet or dark will also work!—but I like the light, caramelized flavor from milk chocolate. Milk chocolate also makes a looser, softer ganache, which really works with the hot cocoa idea.
After some time in the microwave and some whisking, your ganache should be fluid and beautifully shiny. If you're having trouble with lumps or air bubbles, switching to an immersion blender will help smooth everything out.
Refrigerate the ganache for 1-2 hours, or let it sit at room temperature overnight if you're making this over the course of several days. Ideally it'll have a soft but spoonable texture when you're ready to use it, similar to peanut butter.
Prepare the brownie mix according to the package directions. Easy peasy! The only difference is we're going to beat the batter for 2 minutes, to incorporate more air. This helps the brownie cups rise higher and then collapse in the middle. Usually collapsing baked goods would be a BAD thing, but in the case of brownie cups, it's exactly what we want!
Scoop the batter into a well-greased muffin tin. You can also make mini brownie cups if you want more petite bites. I just always like to go big during the holidays! If you're making mini cups, keep an eye on them in the oven since they'll bake a bit faster.
Midway during baking, take the brownies out of the oven and bang the pan against the counter a few times to cause the centers to fall. After they come out of the oven, use the back of a spoon to press into the centers to make sure all of the brownie cups are about the same size and shape.
Once they're completely cool, run a small metal spatula around the edge and pop them out of the muffin tin.
Time for the best part—assembly! Take that gorgeous, shiny ganache and pipe a big swirl into the center of each brownie cup. Things are looking festive around here already.
The brownie mix comes with a packet of candy cane pieces, and sprinkle a generous pinch on top of each brownie cup. If you're not a peppermint person, crushed nuts, toasted coconut, or holiday sprinkles would all be great options here.
Use a small cookie cutter to cut mini shapes out of the giant marshmallow sheet. I opted for stars, but snowflakes or other Christmas shapes would also be fun. After I had enough for the brownie cups, I used some bigger cookie cutters to cut out snowflake marshmallows to go in mugs of hot cocoa.
Pop those marshmallows on the cocoa filling, and you're done! These brownie cups are best enjoyed at room temperature, when the ganache is creamy and smooth and absolutely melts in your mouth.
If you're looking for serving suggestions, I think hot cocoa brownie cups call for equally cute and cozy accessories. They bring to mind the Danish concept of hygge, or charming comfort, so it's only appropriate to pair them with Scandinavian-inspired holiday goods.
Pour a big cup of cocoa into a red Jolly Hearts mug, put a few Hot Cocoa Brownie Cups on an icy blue Jolly Hearts plate, and add some beautiful embroidered napkins on the side – these horses and these Scandinavian hearts are both gorgeous!
Shop the Post: Pelican Bay Peppermint Bark Brownie Mix | World Market Cocoa Mix | Guittard Milk Chocolate Chips | Crushed peppermint candy | Giant marshmallow sheet | Red Jolly Hearts Mug |Icy Blue Jolly Hearts Plate | Scandavian Horse Napkins