Today I am sharing a beloved family recipe, Hojarascas. Hojarascas is the Spanish word for leaves, and just like their namesake, these cookies are light, flaky and deliciously addictive. My abuelita made these crumbly, sweet little cookies every Christmas. When you walked into her home, the smell was mesmerizing. She had a special set of cookie cutters she used every year. I loved those cookie cutters. Each year she would carefully pack them in tissue paper, place them in a vintage holiday tin and store them for the next year.
The Christmas I had my first daughter she gifted me my own set of cookie cutters stored inside the most beautiful Mexican coffee mugs. I was overwhelmed with happiness. Now I could carry on her tradition of making these crumbly delights with my own girls during our Christmas baking.
Hojarascas with a Twist
Pronounced  oh-ha-rascas (the H is silent) these treats are crumbly shortbread cookies made with ground nuts, spices and cut into fun holiday shapes. Hojarascas are lovely ideas for holiday gifts for neighbors, friends and family. This holiday season I plan to gift my loved ones plenty of these sweet cookies with a set of Holiday Mugs from the Christmas decor I found at World Market, along with a printed recipe card.
Today I am excited to share with you a tasty twist to my abuelita's recipe featuring products you can find at your local World Market.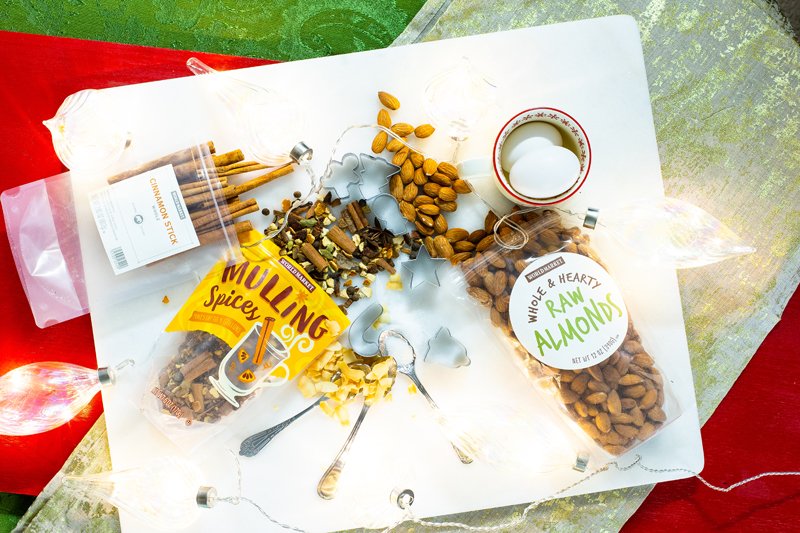 I wanted to add a hint of the holidays to my hojarascas, so I picked up a bag of  World Market Whole Mulling Spice, which includes cinnamon, orange peel, star anise, allspice, cardamom and cloves. The warm spice blend added a wonderfully cozy flavor to the hojarascas cookies.

Mulled spices and almonds give the cookies a warm, nutty layer, but the fun twist is rolling the warm cookies in a mix of cinnamon, sugar and finely crushed toasted coconut.
Be warned: this recipe makes a TON of little cookies, which I love! Plenty for family, friends and even some for the baker to enjoy the next morning with a steamy cup of coffee. I used the World Market Mini Holiday Metal Cookie Cutters, 6-Pack to bake these beauties.
I had the best time shopping online and at my local San Antonio store for this sweet evening. Head to your local World Market to find all your baking essentials this Holiday season.
Shop the Post: Raw Almonds | Mulling Spice Bag | Dang Original Recipe Coconut Chips | Whole Cinnamon Sticks | Gold Luxe Textured Nonstick Baking Sheet | Mini Holiday Metal Cookie Cutters | White Marble Pastry Board | White Marble Rolling Pin | Thanksgiving Sentiment Salad Plates | Gold Runner | Retro Christmas Mugs | Iridescent Glass Ornament Micro LED 32 Bulb String Lights | Copper Ball Tea Infuser With Handle | Hand-Stamped Coffee Spoons