Is there anything better than Halloween and spooky Halloween treats? Nope! There is literally nothing better. It's my favorite time of year and my favorite tradition. This year I've created an easy Halloween recipe and a SUPER easy Halloween snack to serve at my Bewitching Halloween Party.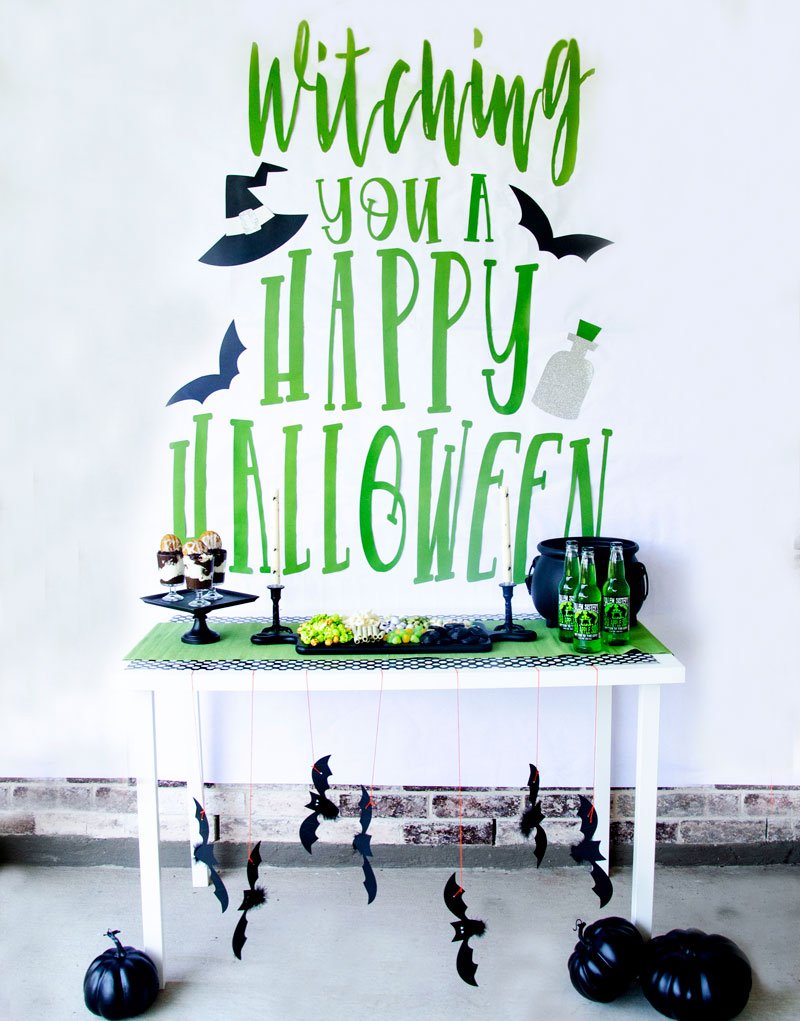 There are so many different yummy food ideas to discover when it comes to trick-or-treats, but today I want to share how to make these easy Graveyard Goblets.
Graveyard Goblet Halloween Recipe
I found all the ingredients at World Market and they took just minutes to assemble and create. And bonus? They are actually really, really delicious. So many slimy, gooey Halloween treats look amazing, but taste kind of gross.
So first things first. Here's what you'll need:
INGREDIENTS:
Cookie icing
Dr. Oetker Whip it
De Ruijter Dark Chocolate Sprinkles
Dr. Oetker Dark Chocolate Truffle Mousse
Maison Colibri Pistachio Madeleines
INSTRUCTIONS
1. Make both the Dr. Oetker Truffle Mousse and Dr. Oetker Whip it according to the packaging instructions.
2. Grab a goblet and start layering both your Mousse and Whip it, alternating flavors until the goblet is full.
3. Take your De Ruijter Sprinkles (boy are these delicious!) and sprinkle them on top of the goblet full of Mousse and Whip it.
4. Using your cookie icing, draw an RIP on the madeleines and let it harden.
5. Once the letters have hardened, place them in your goblets, creating a Goblet Graveyard!
6. Chill in the fridge and serve cold.
And that's it! Aren't they easy and spooktacular?! I'd love to hear if you plan to make them or hear about more about your go-to spooky Halloween treats.
Check out how I used the Graveyard Goblets at my Bewitching Halloween Party, and visit me over at Love The Day for more party and holiday inspiration.
Shop This Post: Ceramic Cauldron Wine Chiller | Salem Sisters Bad Apple Soda | Hanging Bats | Brachs Witches Teeth Candy | Box of Boogers Candy | Mesh Eyeballs | Kids Witch Apron | Black Double Handle Paddle Serving Board | Spider Flameless Candle | Metal Claw Candleholder | Hopi Hot Wasabi | Maison Colibri Pistachio Madeleines | Pocky Matcha Biscuits | Dr Oetker Dark Chocolate Truffle Mousse | Dr Oetker Whip It | Dark Chocolate Sprinkles