I am a sucker for anything coffee flavored and these vegan-friendly French Press Coffee Ice Cream Popsicles with sea salt and dark chocolate drizzle are a perfect treat for a coffee lover like myself.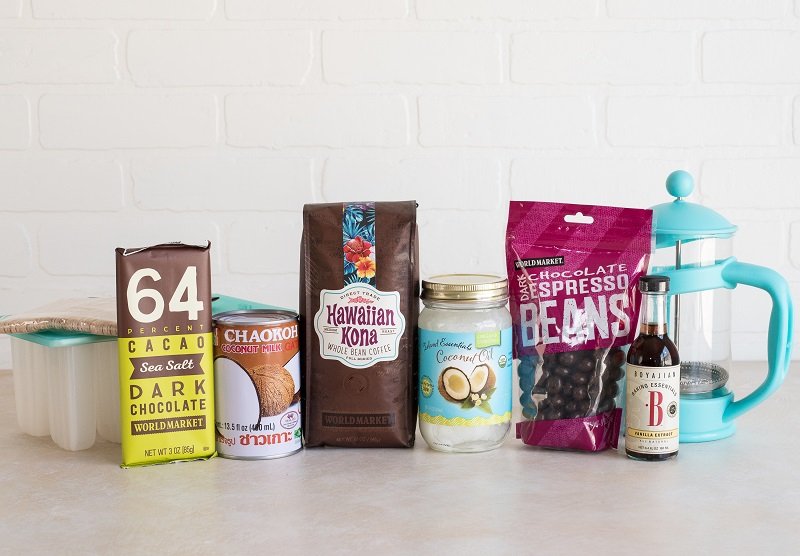 I make a ton of simple fruit popsicles for my kids, and fancier ones like these coffee ice cream popsicles for myself all summer long. My 7-year-old always tries to sneak sips of my coffee and was excited I was making coffee popsicles. I gave her a few licks of one of these popsicles and she said they were yummy. She only gets a few licks since kids really shouldn't have too much caffeine. But I can have more. Coffee gets me through long work days – and a work break with a coffee ice cream popsicle is even better!
I like to make ice cream popsicles with starting with churning the mixture in an ice cream maker. It gives that thick and creamy texture to the popsicles. Just pouring the mixture into the molds would work but they would end up more icy. I highly suggest investing in an ice cream maker. The Cuisinart one I used for these is relatively inexpensive, well under $100, is sold at Cost Plus World Market, and is the best ice cream maker I have ever used. The top is open, making it super easy to add any mix-ins, and clean-up is a snap.
The chocolate drizzle is a must. Coconut oil added into the chocolate helps it solidify quickly when chilled. I add in a touch of organic corn syrup to keep its sweetness, you could also use honey or maple syrup.
I also suggest having at least two popsicle molds (or more) like the ones I used for these popsicles. Most recipes I find online, or make, make more than 10 pops at a time and with a recipe such as this one which starts with an ice cream base you want to make all the pops at once. You could fill one mold, then freeze the remaining base in a freezer-safe bowl to eat like regular ice cream, but the popsicles are a little more fun and more portable!
Shop this post: Popsicle Molds (similar here) | French Press | Whisk | Measuring Cups | Cuisinart Ice Cream Maker | Sea Salt Dark Chocolate Bar | Coconut Milk | World Market Hawaiian Kona Coffee | Coconut Oil | Dark Chocolate Espresso Beans | Vanilla Extract
Makes 18 popsicles