Between presents, decorations, finances, and planning, we tend to forget the real spirit of the holiday season. I'm inspired by the Scandinavian way of life, which focuses on spending more time with those you love and enjoying the beauty of the season instead of getting sucked into the chaos.
When it comes to baking up holiday cookies & cakes, there's no need to toil away in the kitchen or get too fancy with serving ware. Instead, make easy, delicious recipes, and let the food do the talking. These espresso chip cookies will certainly make a statement – no garnishes or utensils required! They're the perfect cookie for the coffee lover in your life (plus, everyone could use a little extra caffeine around the holidays).
These scrumptious cookies are made with cocoa powder, espresso grounds, and loads of chocolate chips. Bring them to parties, cookie swaps, or add them to your own dessert table, and you'll have everyone happily buzzin'!
In the name of saving time and money, shorten your errand run by heading straight to World Market to pick up premium ingredients for all your Christmas baking needs.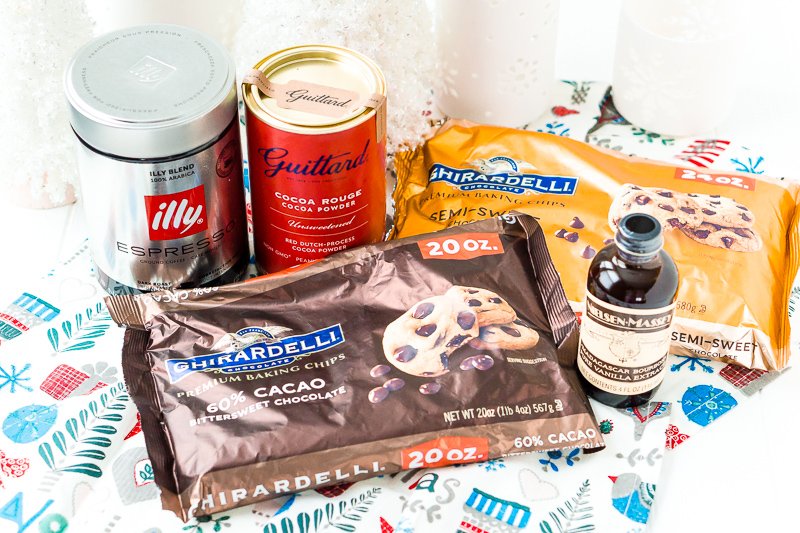 Espresso Chip Cookies
For the best batch of  espresso chip cookies, it's essential to use quality chocolate and coffee in the recipe. Guittard Unsweetened Cocoa and Nielsen-Massey Vanilla are two of my go-to staples when whipping up baked goods, plus Ghirardelli 60% Cacao Bittersweet Chocolate Chips and Ghirardelli Semi-Sweet Chocolate Chips are a necessity for these chip-studded treats. Lastly, Illy Dark Roast Fine Ground Coffee is a key ingredient for the rich espresso flavor that perks these cookies right up!

Simple & Stylish Serving Must-Haves
In addition to gathering your favorite ingredients, World Market has unique Christmas decor for one-stop shopping! For clean, minimalist decorating, check out the Scandinavian Collection, which is both elegant and timeless.
Some of my favorite pieces include these gorgeous Scandi Folklore Animal Mugs (set of 4), as well as these complementary Scandi Folklore Animal Salad Plates (set of 4), which can also be used to serve dessert. These stunning White Ceramic Snowflake Tealight Candleholders create a cozy ambiance, whether they're placed in a cluster or in a row. Plus, you can enjoy these items all season long, not only during the holidays.
If you want an extra dash of Christmas cheer, Scandi Christmas Icons Napkins (set of 4) will add even more magic to a sit-down meal and get everyone into the spirit.
Trendy & Useful Baking Tools
Shop the Post: Illy Dark Roast Ground Coffee | Ghiradelli Semi Sweet Chocolate Chips | Guittard Unsweetened Cocoa | Nielsen-Massey Vanilla | Ghirardelli 60% Cacao Bittersweet Chocolate Chips | Scandi Folklore Animal Mugs (set of 4) | Scandi Folklore Animal Salad Plates (set of 4) | White Ceramic Snowflake Tealight Candleholders | Scandi Christmas Icons Napkins (set of 4)