The best recipes are enjoyed for decades, and these Double Chocolate Sandwich Cookies are a classic dessert that everyone will love! Chocoholics will go nuts over these decadent confections, which consist of two small chocolate cookies with a layer of Cadbury chocolate spread in between. The sandwiches are then dipped halfway in melted chocolate chips and decorated with holiday sprinkles for the finishing touch!
Chocolate sandwich cookies are a bit of a retro treat and are great fun to whip up with a few generations in the kitchen! The adults can do the baking and the kids can dip and sprinkle, so you can make these great goodies and wonderful memories at the same time.
Double Chocolate Sandwich Cookies
For these cookies, I use rich Guittard Unsweetened Cocoa in the dough and Guittard Milk Chocolate Chips to melt and dip the cookies once they're baked. Then, there's Cadbury Milk Chocolate Spread, a Cadbury lover's dream (you'll be eating it by the spoonful!), and Nielsen-Massey Vanilla, my favorite extract to use in all my baked recipes! For decorating, I'm obsessed with this fun Holiday Treat Toppers Box Set, which includes 12 festive sprinkle options for all of your Christmas baking.
Read ahead for step-by-step photos, serving suggestions and recipe!
Festive Holiday Serving Essentials
Whether you're planning a cookie-making party or you're hosting friends and family to enjoy some sweets, these festive baking and serving essentials are an absolute must!
In line with the vintage theme of this Double Chocolate Sandwich Cookies recipe, these shiny Retro Red And White Retro Flour Sifters are as useful as they are beautiful. Brightly-colored Silicone Slotted Spatulas are perfect for sliding hot cookies onto a cooling rack, and these Retro Magnetic Timers look good enough to stay on the fridge, where they'll be handy whenever you need them!
But the throwback doesn't stop there. Set the table with these adorable, easy-to-clean Skating Santa Village Vinyl Wipe Off Placemats (set of 4), use these Retro Bottlebrush Trees On Stands Decor (set of 4) as a centerpiece and string a couple Retro Red And Blue Felt Pom Pom Garlands around the dining room to complete your retro Christmas decor.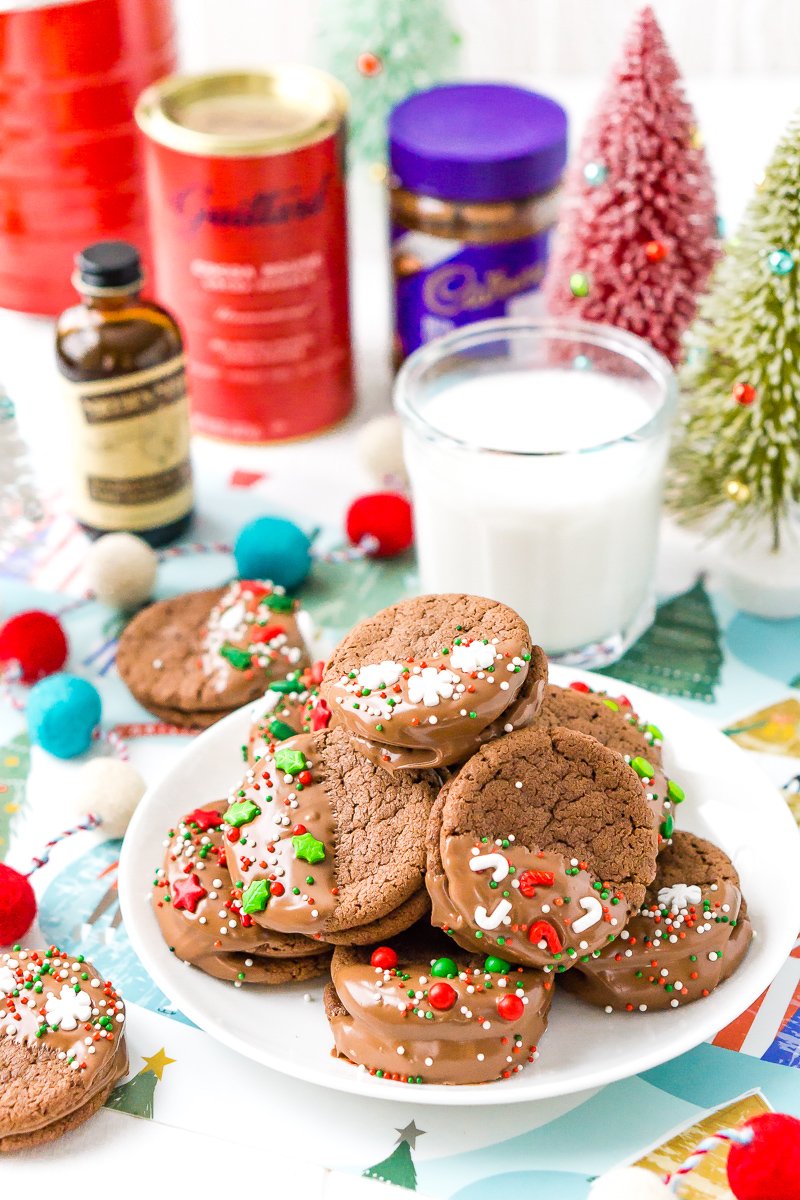 Shop This Post: Guittard Unsweetened Cocoa | Guittard Milk Chocolate Chips | Cadbury Milk Chocolate Spread | Nielsen-Massey Vanilla | Holiday Treat Toppers Box Set | Retro Red And White Retro Flour Sifters | Silicone Slotted Spatulas | Retro Magnetic Timers | Skating Santa Village Vinyl Wipe Off Placemats (set of 4) | Retro Bottlebrush Trees On Stands Decor | Retro Red And Blue Felt Pom Pom Garlands