Wine has long served as a focal point for getting together with friends and families, be it at holidays, formal celebrations or just a simple party with friends. Not only is wine a delicious drink to have at a party, but the endless number of varieties and flavors can also make for a great excuse to create a wine bar and hold a tasting party!
Hosting a wine tasting party might bring up visions of pretentious wine snobs and elaborate settings, but in reality, combining some friends, a few types of wine and some simple food pairings and you've got a  fantastic experience with just a simple setup!  We've put together a couple of quick tips for hosting your own wine bar party!
Planning your Wine Tasting Party
The first step of any wine party is of course the wine! We recommend picking a theme for the wines, be it based on a specific wine region, a style of wine, or even something as simple as finding a group of wines all at the same price!
We do recommend that you try to limit the number of wines to no more than four types. We kept this party mostly reds, but with one white, as we had a non-red wine drinker. The bottles we chose were Old Woodhouse Red, Foodies Chardonnay and Vino de Eyzaguirre Cabernet Sauvignon. This allows your guests to not get overwhelmed with choices, plus it helps keep tasting manageable and everyone can easily keep track of what they've tried!
You need to know how much wine you're going to need for your party, as you want there to be enough for all your guests to get a taste and to be able to get a second tasting (because let's be honest, having only one sip won't be enough for most of the wine drinkers we know!). We like to plan on around 10 – 12 generous tastes per bottle. Also, plan on having a way to display your bottles on the wine bar. We used a Wire Gift Basket with Copper Handle. Use attractive ice buckets for serving white wines.
Now that you have your selections under your belt, you have to start thinking about your guests! We personally like to keep our parties intimate – less than ten guests, as this helps keep the conversation flowing and the planning easier.
Encourage your guests to not wear perfume or scented lotions to keep scents away from the wine experience. And don't feature overly scented flowers in your vases. We used unscented Clear Cup Tealight Candles in the Wood and Metal Hairpin Votive Candleholder.
Stock Up on Wine Bar Supplies
You can't have a wine bar without wine glasses, like these Vintner Red Wine Glasses. Definitely plan on having at least one wine glass per person, but if possible have an extra few so that a guest can compare two wines at the same time. Of course, having all kinds of similar looking wine glasses can get a bit confusing so you should provide wine charms that get attached to a guest's glass to let them easily identify their drink, like these Cheese Markers. Aren't they cute?
You're also going to want a way for guests to cleanse their palates so they can experience the different wines without previous tastes influencing them. An easy way to do this is to provide simple crackers or breads that help "reset" the taste buds. We used Carr's Table Water Crackers for this. You can also provide water on the wine bar to help with this.
We recommend having lots of small plates like these White Porcelain Square Tasting Plates for the finger foods, as well as some elegant Flame Orange Buffet Napkins to add a luxurious feel to your party. We also used the Citrus Fruits Print Linen Table Runner to match the napkins, and a Clear Wine Bottle Glass, which is great for silverware or for featuring any tall foods.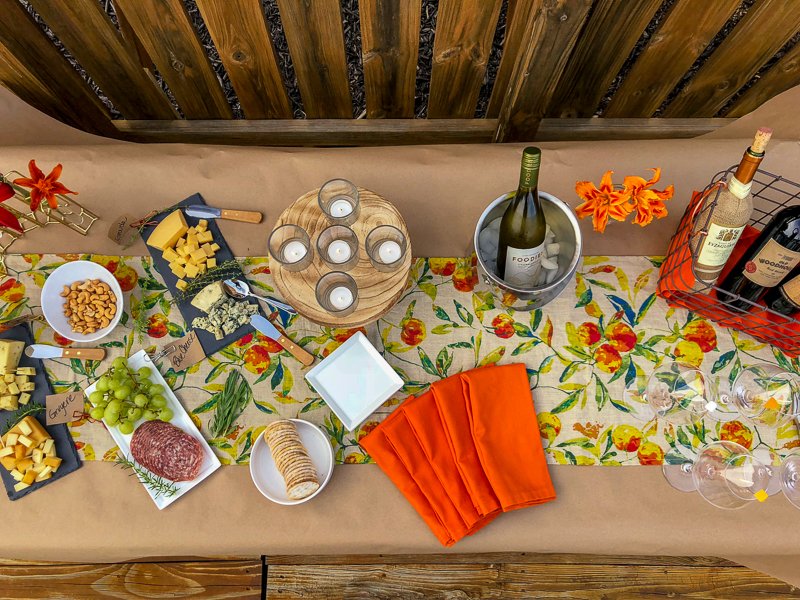 It's Not a Party Without Food!
Every good tasting needs some fantastic food to go along with the wine. Food can enhance the wine flavors and helps keep your guests from getting too tipsy! The food you serve definitely doesn't need to be elaborate or fancy; in fact the simpler the better!
We always love to serve fare like cheese and crackers, charcuterie plates, olives (World Market Truffle Stuffed), or fruits and nuts (World Market Roasted and Salted Fancy Cashews for the win!). Simple little finger foods and light appetizers can be set out on the wine bar in small Shallow Serving Plates or even Small Slate Cheese Boards, which can be pre-chilled in the refrigerator to help keep your cheeses cold.
We also like to be sure to identify different types of cheeses (we used these Vintage Style Wire Bag Clips as card stands) so that our guests could know what they are trying. We like to find cheeses that complement the wines, and recommend serving some delicious rich cheeses like gruyere, white cheddar, gouda and blue cheese. These are all soft enough to be easily cut with a cheese spreader while also having enough fatty richness to help smooth and enhance the acidity of the wines.
Red Wine Spritzer Wine Cocktail
When you're done with tasting, and have found a wine you like, then why not make our Red Wine Spritzer? It's a lovely combination of orange liqueur, red wine and club soda.
Shop This Post: Test Tube Vases | Wood and Metal Hairpin Votive Candleholder | Clear Cup Tealights | Gift Basket Kit with Copper Handle | Red Wine Glasses | Cheese and Wine Markers | Clear Wine Bottle Glasses | Old Woodhouse Red Blend | Foodies Chardonnay | Vino de Eyzaguirre Cabernet Sauvignon | White Rimmed Rectangle Platters | Shallow Serving Plates | Mini Spreaders | Flame Orange Buffet Napkins | Citrus Fruits Table Runner | Slate Cheese Board | Tasting Plates | Vintage Style Wire Bag Clips | Carrs Table Water Crackers | Roasted and Salted Fancy Cashews | Truffle Stuffed Olives |Italian Dry Salame | Genoa Salame