One of my favorite flavor combinations is chocolate and peppermint, and there is no better occasion than the holidays to bake up a delicious chocolate peppermint cookie recipe! This holiday cookie recipe uses quality ingredients and two types of peppermint to make them extra flavorful. It's so important to use the best ingredients when baking since it really does affect the outcome of the baked good. From the flour, butter and eggs, down to the vanilla, every ingredient matters (Nielsen-Massey Vanilla is always a favorite!). We used Guittard unsweetened cocoa powder to give the cookies a rich and decadent chocolate flavor. Pair the powder with Guittard semi-sweet chocolate chips, and these cookies definitely won't be lacking in the chocolate department! That's what I love about the flavor of these chocolate peppermint cookies – both the peppermint and chocolate flavors are dominant without being overwhelming.
For the peppermint flavor of the cookies, we used peppermint extract and crushed peppermints. It's important when using the crushed peppermint that you only add a few pieces to the top of the cookie before baking, since peppermint melts and can make a mess! We used the Melville Peppermint Crushed Candy Bag, and it was more than enough for the cookies.
Chocolate Peppermint Cookies: A Step-by-Step
To make these chocolate peppermint cookies, beat unsalted room temperature butter and sugar together on high until light and fluffy. Add in the Nielsen-Massey Vanilla extract and eggs and continue to beat on high with the paddle attachment.
In a separate bowl, add in the flour and sift the cocoa powder over the top. This will help remove any clumps of cocoa before adding it to the batter. Also, add in the salt and baking soda.
Add the dry ingredients to the batter mixture and beat on medium until incorporated. Fold in the chocolate chips and using a cookie scooper, scoop 1″–2″ sized balls.
Add a few pieces of Melville Peppermint Crushed Candy onto the top of the cookies before baking. Bake in a preheated oven for about 7 minutes and do not over-bake! The cookies bake very quickly and will continue to bake once they're out of the oven.
When you take them out of the oven, also add a little more crushed candy onto the top!
Enjoy these chocolate peppermint cookies since they'll go fast at any cookie exchange party!
They're also a great cookie to leave out for Santa!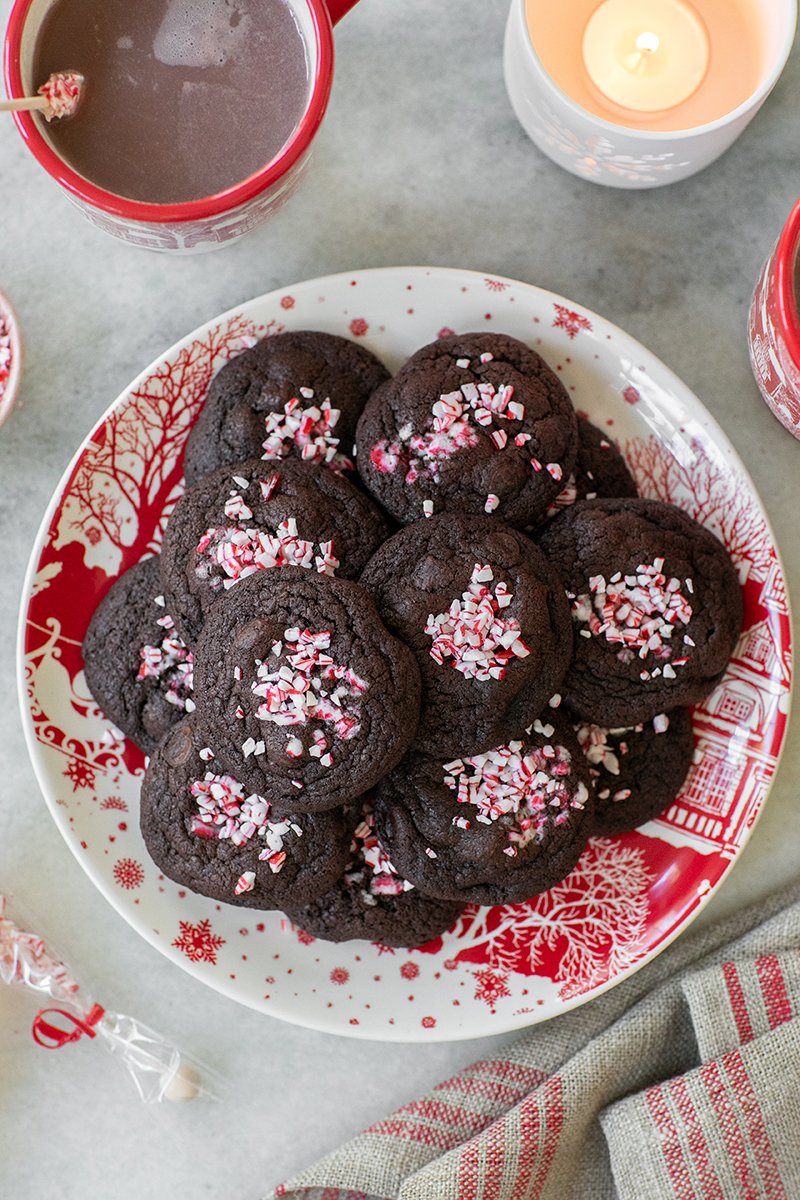 Shop the Post: Melville Crushed Peppermint | Guittard Unsweetened Cocoa | Guittard Semi-Sweet Chocolate Chips | Nielsen Massey Vanilla Extract | Red Stripe Linen Napkins | Scenic 4 Piece Santa Plates | Scenic Santa Mugs | White Ceramic Snowflake Tea Lights | White Chocolate Peppermint Hot Cocoa Candy Stirrer | Scandi Christmas Napkin | Sea Salt | Red Rosebud Dipping Bowl | Parchment Paper |