We tend to move so quickly from one holiday to the next that we forget to stop and enjoy the moment we're in. That's why I make these caramel apple thumbprint cookies throughout fall and winter because the spicy flavors in this recipe should be savored for more than one season!
Apples don't need to take a back seat just because Thanksgiving is behind us, and these cookies make for a cozy treat around the fireplace at Christmas and beyond. These treats are laced with warm spices, coated in cinnamon and sugar, then filled with a dollop of apple butter. The finishing touch is a generous a drizzle of gooey caramel.
Gourmet Ingredients for Thumbprint Cookies & More!
The secret to truly delicious food lies in the quality of the ingredients. World Market's wide variety of globally sourced foods means you can elevate any recipe by choosing gourmet ingredients with some of the best flavors from around the world. 
For this caramel apple thumbprint cookie recipe, I use fragrant World Market spices like organic Saigon cinnamon, ground allspice, and ground nutmeg. My favorite Nielsen-Massey Vanilla gives these cookies a hint of silky smoothness, and Wildly Delicious Caramel Apple Butter, which fills the thumbprints, lives up to its name. Last but not least, a swirl of Torani Caramel Sauce adds a layer that's irresistibly rich and sticky!
Baking and Serving Essentials
You don't need to go globe-trotting to find some of the best food and home products in the world. In fact, you don't even have to run around town to check off your list of holiday necessities. Just head to your local World Market for quick and easy one-stop shopping for any event this season.
Pick up everything from gourmet ingredients and kitchen tools to cute decor and serving supplies at this awesomely eclectic store. Some of my favorite baking essentials to make caramel apple thumbprint cookies include this Natural Wood Nesting Measuring Cup Set, the matching Natural Wood Nesting Measuring Spoon Set, a pair of Holiday Colors Silicone Spoons (set of 2), and a festive Red Melamine Batter Bowl.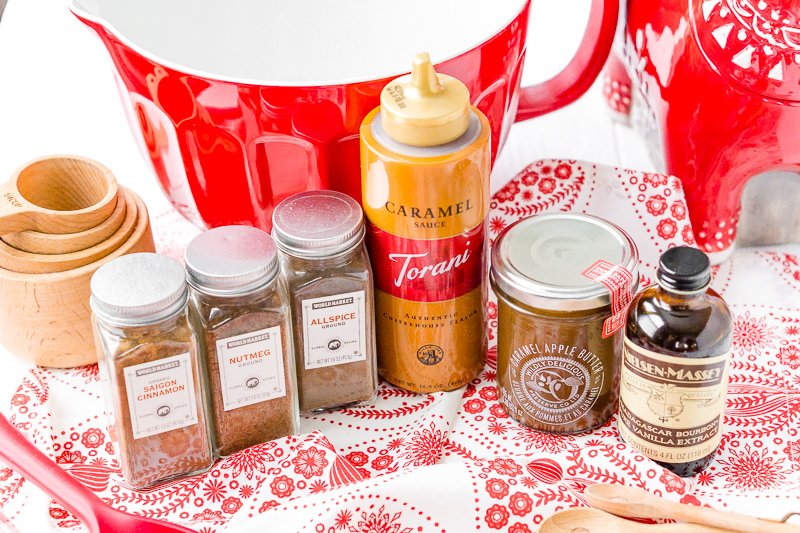 When you want to bring dessert to a get-together or send loved ones home with some freshly-baked Christmas cookies & cakes, Scandi Holiday Bake Away Pans (10 count, set of 2) and Bird And Gnome Pastry Gift Boxes (4 pack, set of 2) are the perfect way to package them up.
When it comes to throwing a party, presentation is everything so make sure all your Christmas party food is as merry and bright as the season! My must-have serving and table decor pieces include:
–White Coupe Salad Plates (Set of 4)
–Red Festive Heart Napkins (Set of 4)
–Red and White Scandi Horse Ceramic Cookie Jar
–Icy White Faux Bottlebrush Trees
Shop the Post: Organic Saigon Cinnamon | Ground Nutmeg | Nielsen-Massey Vanilla | Wildly Delicious Caramel Apple Butter | Natural Wood Nesting Measuring Cup Set | Natural Wood Nesting Measuring Spoon Set | Holiday Colors Silicone Spoons | Red Melamine Batter Bowl | Scandi Holiday Bake Away Pans | Bird And Gnome Pastry Gift Boxes | White Coupe Salad Plates | Red Festive Heart Napkins | Red and White Scandi Horse Ceramic Cookie Jar | Icy White Faux Bottlebrush Trees | Torani Caramel Sauce