Cajun Shrimp Pasta
I'm always looking for meals that I can put together quickly that my entire family will love or that I can serve to guests without a ton of fuss. This easy Cajun Shrimp Pasta recipe fits the bill perfectly! This delicious Cajun-inspired meal is loaded with flavor yet simple to prepare. Blackened Shrimp, tender pasta and bell peppers tossed with a velvety tomato cream sauce is a meal that everyone will rave about.
Quality Ingredients at Cost Plus World Market
Cost Plus World Market carries everything you need to prepare and serve this delicious dish. With a big selection of unique international ingredients, your next meal can transport your taste buds around the world. In this recipe, I've combined some of my favorite flavors to create an irresistible Cajun Shrimp Pasta dish. World Market® Cajun Blackening Seasoning is the perfect blend of spices with tons of flavor and just a hint of heat. This creamy Cajun Shrimp Pasta is definitely a crowd pleaser. Shrimp is a quick and easy protein to prepare and pickled okra adds an unexpected zest to the recipe.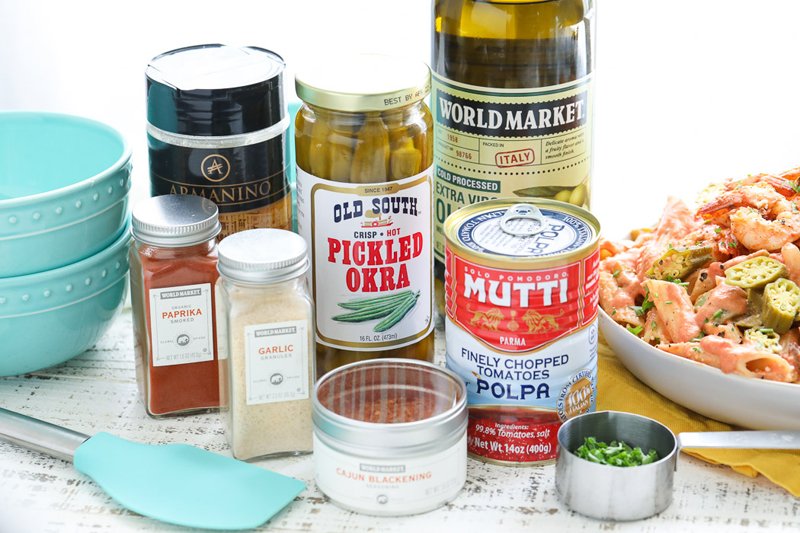 One Stop Shopping
I was able to get almost all of the ingredients (and kitchen tools) I needed to prepare this meal at Cost Plus World Market – along with bold and beautiful decor for serving. Having the right tools for prepping saves tons of time. Cost Plus World Market has all of the kitchen essentials you'll need from JA Henckels International knives and Epicurean Cutting Boards for effortless prep, to GreenPan cookware for healthier cooking.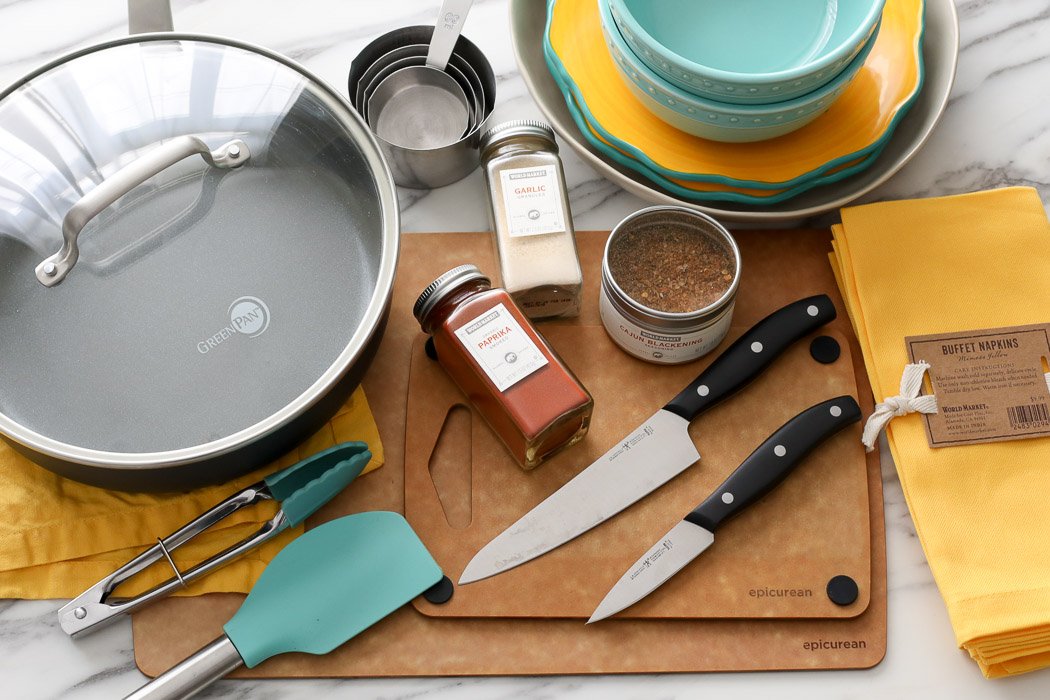 The surface of the GreenPan cookware is nonstick and everything literally just slides right out (meaning cleanup is a breeze). I also love that I can safely use metal utensils and that it's dishwasher safe. Another favorite Cost Plus World Market kitchen prep item is the rectangular measuring spoons set.  The rectangular shape allows them them to fit into spice jars for easy, mess-free measuring!
Prep Items Used in This Recipe:
Entertaining Made Simple:
Preparing a great meal for friends or family doesn't have to be an all day affair. I like to plan meals that are flavorful but simple so I can enjoy time with my guests instead of spending hours in the kitchen. Cost Plus World Market is one of my absolute favorite places to shop. I could – and often do – literally browse for hours. Whether I'm prepping for a family meal or for a holiday, World Market always has what I need to create a perfectly memorable table for any occasion. For this fun Cajun-inspired pasta dish, I wanted lively, beautiful and bold colors to match the flavors in this meal. Pairing brightly colored mimosa yellow napkins with gorgeous aqua colored bowls creates a bright and eye-catching place setting.
My Favorite Serving Items
Mimosa Yellow Buffet Napkins – Set of 6
Fiji Salad Plates – Super cute
Mini Wooden Prep Bowls – Fill with condiments
Slate Flatware Collection – Classic
Stainless Steel Buffet Serving Spoon
Get creative with your colors and decor; go bright and bold for a fun lively table setting! I love to mix and match sets and bowls to create fun textures and color combinations. Choosing solid pieces makes them very versatile, so for your next event you can swap a couple of bold accent pieces and create a whole new look!
Cajun Shrimp Pasta