If you're ready to treat your sweet tooth to a holiday celebration it will never forget, you've come to the right place. "A holiday season without sweets is unthinkable in my family!" says Lifestyle Expert Brandi Milloy (@brandimilloy). "It's the best time to treat yourself to holiday dessert dishes with seasonal spices like ginger, nutmeg and cinnamon. They bring everything to life."
See how Brandi elevates holiday dessert recipes to their most delectable and elegant expressions. Watch the video and get recipes below.
Gingerbread Icebox Recipe & Holiday Dessert Table
Holiday Dessert Buffet
What you'll need: 
Salted Caramel Bark | Butter Toffee Pretzels | Walkers Gingerbread Men (World Market exlcusive!) | Torani Chocolate Caramel Syrup | Neilsen-Massey Vanilla Extract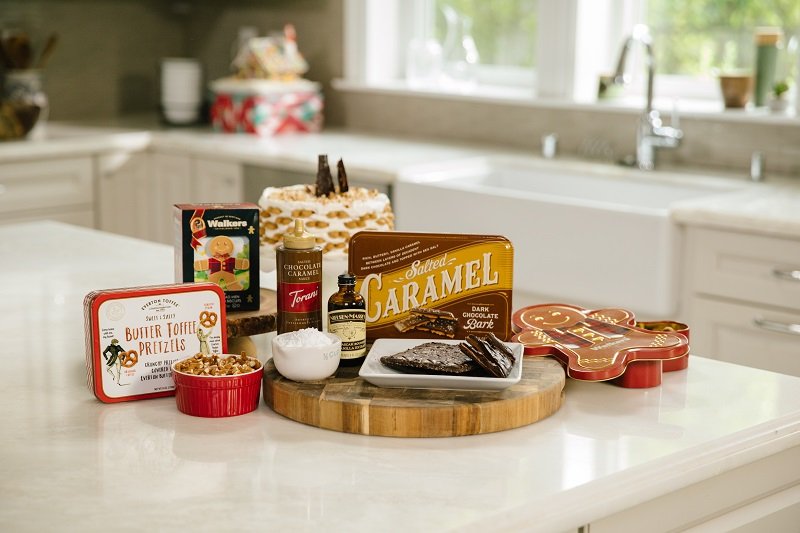 Gingerbread House
Ingredients:
1 Mini Walker Shortbread Scottie Dog Cookie
1/2 container Mexican wedding cookies, crushed
1 small chocolate Santa from the Riegelen Confiserie chocolate cone
Directions: Remove the gingerbread cookies from the packaging and separate pieces, as directed on the box. Instead of assembling the house first, decorate the cookies, allow time for them to dry and then use the remaining icing packet construct the house on the plastic board. Decorate more, if you'd like. Place the gingerbread house on a plate. Use icing to attach a mini Scottie dog to the plastic surface. Sprinkle crushed Mexican wedding cookies around the bottom to look like snow. Squeeze a generous amount of the remaining icing behind the chimney and top with a Santa. Add more icing around the Santa and allow to dry. To ensure it does not fall while drying, prop something behind the Santa to hold it in place.
Marzipan Gifts
Ingredients:
a variety of chocolate-covered marzipan (J.G. Niederegger Marzipan and Schluckwerder are good options)
1/4 Lindt white chocolate bar, melted candy, to decorate (extra candies can be used from the gingerbread house kit)
Directions: Slice the marzipan into approximately 1-inch pieces. Dip a toothpick into the melted chocolate and draw 2 lines in across the tops of each to look like ribbon wrapping a gift. Dab a small amount of white chocolate where the lines intersect and add a piece of candy as the "bow."
Cookie Dip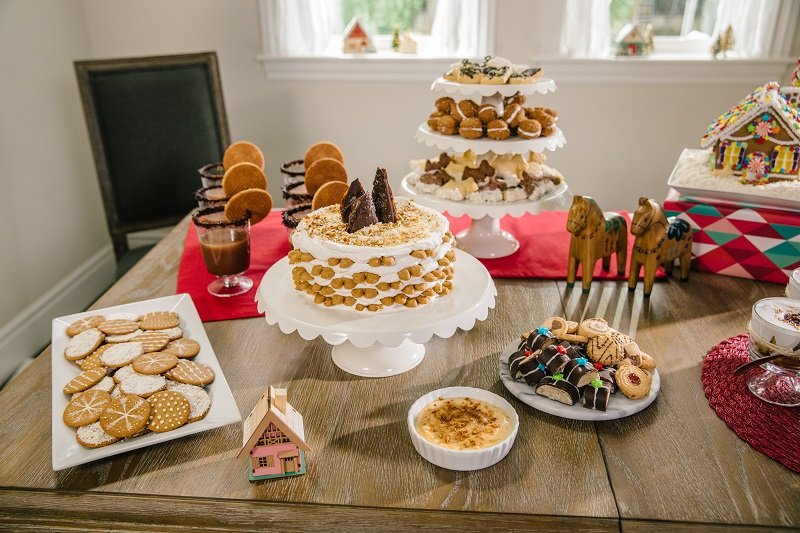 Ingredients:
1/2 can can Ambrosia Devon custard
2 tbsp Gaucho Ranch dulce de leche
assorted cookies (Vieira Pincesa and Walker shortbread cookies are good options)
Directions:
In a ramekin or bowl, add the custard. Then, top with dulce de leche. Serve with cookies.
Panettone Parfaits
Ingredients:
1/2 Ittella limoncello panettone, diced into 1-inch pieces
1 jar marshmallow fluff
1 jar World Market lingonberry jam
ground cinnamon, for garnish
Directions:
Divide the panettone between 6 individual-sized trifle bowls. Top with marshmallow fluff and a dollop of lingonberry jam. Sprinkle cinnamon on top to finish.
Stroopwafels + Hot Chocolate
Ingredients:
1 Lindt Excellence 85% cocoa bar, melted
1 cup De Ruijter dark chocolate sprinkles
World Market dark chocolate cocoa mix
Toffifay chocolate caramels, optional
Terry's chocolate orange, optional
Directions:
Use a knife to cut slits into each Stroopwafels cookie that is the thickness of the glass being used. Make sure the slit is not cut further than the middle of the cookie. Set aside.
Coat the rim of each glass with melted chocolate and the dip it into a plate filled with chocolate sprinkles. Set on wax paper, upside down, to dry completely.
Prepare the hot chocolate as directed on the canister and divide evenly between the glass. Place the cookie on the rim of the glass and serve.
Optionally, you can serve with Toffifay candies and slices of chocolate orange, which can be used to add more flavor into the drink.
Gingerbread Icebox Cake Recipe Below