Typically, fish and chips is made with a firm white fish such as cod, haddock or pollock, a light crispy beer batter, and chips that are wedge-cut with malt vinegar as the dipping sauce. Since we are fans of Japanese food and Asian flavors in my house, I went with an Asian twist for this recipe. My husband loves salmon and for his birthday—and Father's Day—I tried to come up with something new while still incorporating his favorite foods.
This one hits it out of the park.
The trick to perfectly crispy tempura fried salmon is keeping the batter as cold as possible. This allows it to cook the fish inside perfectly while maintaining a golden crispy exterior without soaking up too much oil.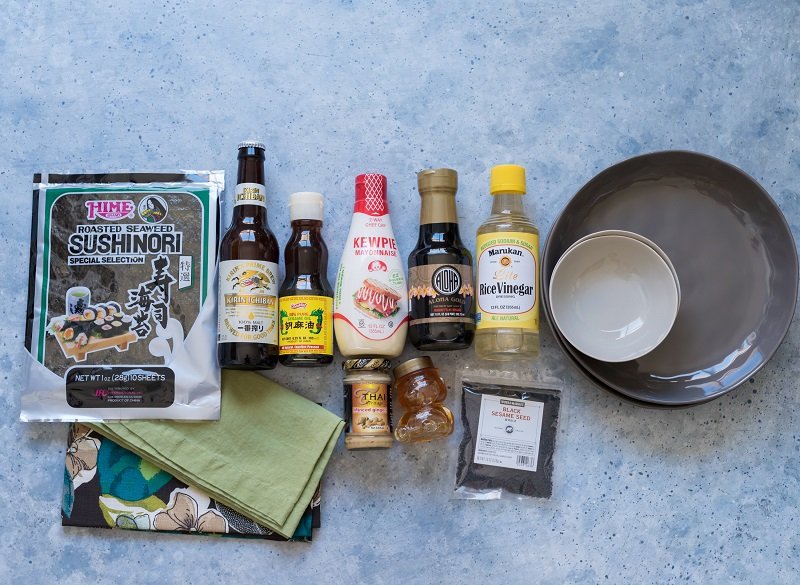 You fry the salmon pieces for 2-4 minutes, depending on thickness; any more than that, the fish will dry out and soak up too much oil. Tempura batter uses cold sparkling water to keep the batter light and crispy, and I went with a light Japanese beer to keep the batter close to traditional fish and chips, but still light enough for tempura batter. It worked perfectly.
In lieu of the traditional wedge fries with fish and chips, I went with skinny Japanese sweet potato fries. Sweet potatoes are starchier, so they do well as a baked fry. Another trick here is the arrowroot or potato starch to help give them that nice crispy texture obtained with frying, but without the oil.
Instead of a typical tempura dipping sauce, I went with a honey ginger soy dipping sauce that works great for both the salmon and the fries. The fries have a drizzle of soy sauce, Japanese mayo, sesame seeds, and nori seaweed shreds. I know my husband is going to love this dish for Father's Day this year!
Shop this post: Charcoal Element Dinnerware | Stone Gray Tasting Bowls | Aqua Cutting Board | Stainless Steel Chopsticks | Pint Glasses | Jungle Fruit Napkins | Sage Green Linen Napkins | White Coupe Dinnerware | Sesame Oil | Soy Sauce | Rice Vinegar | Black Sesame Seeds | Honey | Kewpie Mayo (In store) | Kirin Beer (In store)
Yield:4 Servings

Prep Time:30 Minutes

Cook Time:30 Minutes