My husband is a fan of beer, and for Father's Day, I decided to get him an assortment of fabulous beer mugs, a little arsenal of glasses so he can match up his pilsner to the proper tumbler and feel like he's living in his own private pub. I even filled these cute bags with an assortment of beers from around the world.
But first, I filled all of these fabulous vessels with milkshakes. But not just any old milkshakes. Boozy milkshakes! Thick, rich, over-the-top, grown-up milkshakes.
I couldn't decide whether to go for fruity or rich. (What would you have done? Both? Yes, that's exactly what I did; I'm very glad we're on the same page.)
First up is a Creamsicle Milkshake. Creamsicles were one of the dreamiest, lushes treats when I was a kid—so soft and heavenly. Vanilla ice cream and orange sherbert (I found a blood orange sherbet that was extra fantastic) get whirred up with some cream, orange liqueur and vodka. My taste testers (a selfless bunch, determined to help me get these shakes right) could not stop saying how much it actually tasted like a (spiked) creamsicle.
I also made a Chocolate Café Con Leche Milkshake. Coffee ice cream, coffee liqueur, two kinds of milk, espresso powder, a squirt of chocolate syrup, whipped cream, and maybe a drizzle of caramel or dulce de leche sauce.
Stop it. (No, you stop it.)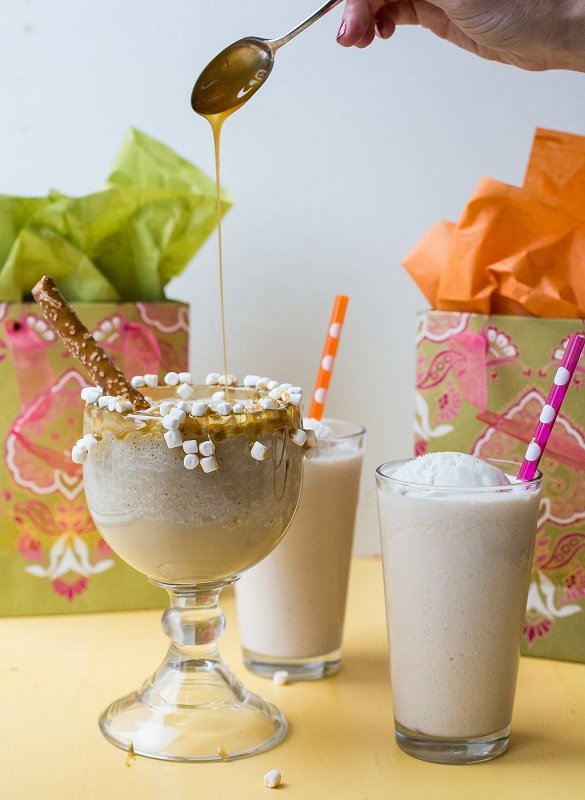 If you want to have some fun, garnish the rim of the glass. Just pour some chocolate syrup or caramel or dulce de leche sauce into a shallow plate and turn the glass upside down into the sauce. In another shallow plate, place sprinkles or crushed pretzels, candy, or shaved chocolate, or whatever makes you happy.
Then, dip the coated rim into the second plate, fill that glass up with your shake, and top it with whipped cream or more ice cream. You can keep going, or call it a day.
Just clear the deck for the day after you plan to serve these. You don't want to do any hard math, exercise, operate any heavy machinery, or do anything other than watch some unchallenging television, preferably from a semi-horizontal position.