Sometimes corralling a babysitter to hang with the kids while you and the spouse escape is, well, hard. Expensive. And only lasts for one evening! But if you take some time to spruce up your outdoor space and make it special, you can lock the kids inside and have an outdoor date night all to yourselves.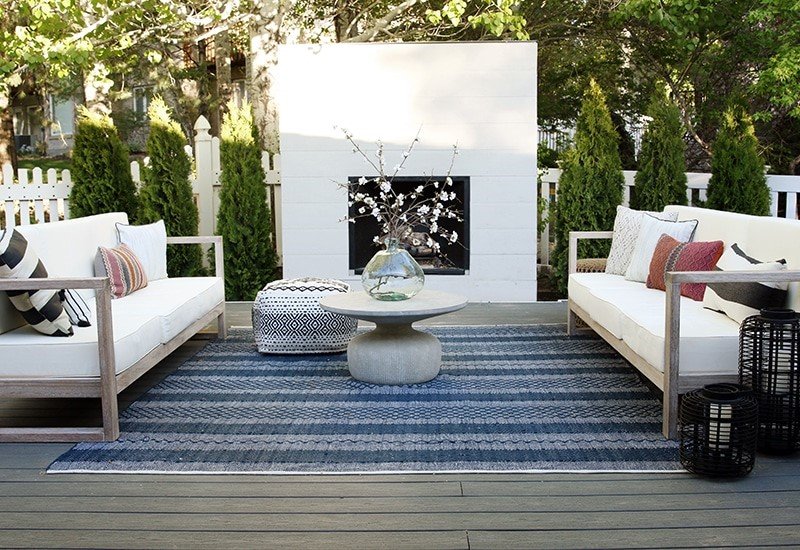 Accessories Make the Space
Three years ago, we added a deck to our backyard, but every year we find ways to improve it and enjoy it a little more. This year, we added two three-seater sofas for long summer nights chatting away with even more family and friends, a pouf to prop our feet up, my favorite vase of all time and a few other accessories from World Market to make our outdoor living space look (and function) just as good as our indoors.
Outdoor Date Night Ideas
During the day, we basically live out here. Our girls running around from the swingset to the couches, kneeling around the table for a quick drink. But after the sun goes down and they're all tucked in, it's our favorite spot to unwind together. And what's an outdoor date night under the stars without a perfect snack– a charcuterie board! Here's how to put together a simple one with ingredients (and that killer board) you can find at World Market.
Building a Charcuterie Board for Two
When the night is settling in and you finally have a quiet moment to spend with that special someone, a charcuterie board is a great way to incorporate snacks without feeling like you've gone overboard on the food. But the key to charcuterie is balancing sweet, salty, and rich flavors, as well as incorporating a variety of textures, while keeping it light. Here are a few tips for building a charcuterie board for two.
1. Limit yourself to two meats, and about 6-8 thin slices of each. I like including a nice Italian Salame, as well as some kind of ham like prosciutto. And for cuddling up close, maybe avoid the spicy or garlicky meats.
2. Include two crunchy elements. I like one to be sweet and the other to be salty, so some simple water crackers and shortbread cookies are reliably appreciated. Even for those with gluten sensitivities, you can find good options.
3. While you want sweetness included, you don't want it to be candy levels of sweetness. So add a small handful of dried fruit – figs are a favorite and go great with cured meats, but dried cherries or peaches are also great.
4. Like the meats, limit yourself to two cheeses – one sliced and sharp, like a good cheddar, and the other rich and spreadable, perhaps with a spoonful of preserves.
5. Always include an element of brightness, like Greek olives or sweet baby pickles. The brine will help cut through the fats present in the meat and cheese, and will help this snack not sit so heavy in the belly.
You can absolutely make your backyard a perfect little haven. It doesn't take a zillion dollars and it doesn't have to take forever. The only thing standing between you and an outdoor date night like this is a comfy spot to sit, a beautiful array of nibbles (maybe some wine?) and the kids' bedtime. Happy snuggling!
Discover more outdoor decor for your space, and get more details about the Chris Loves Julia backyard makeover!
Shop this post: Sevilla Outdoor 3-Seater Bench | Black and White Kilim Outdoor Pouf | Natural All Weather Wicker Stool | Indoor Outdoor Lumbar Pillow | Natural Macrame Pillow | Black and White Striped Lumbar Pillow | Clear Barcelona Vase | Black Bamboo Lanterns | Charcuterie Cutting Board