We've collected our most pampering personal care essentials, infused with natural minerals and floral fragrances so Mom can take time for herself and unwind in luxury. Give her the gift of relaxation with a spa day at home this Mother's Day!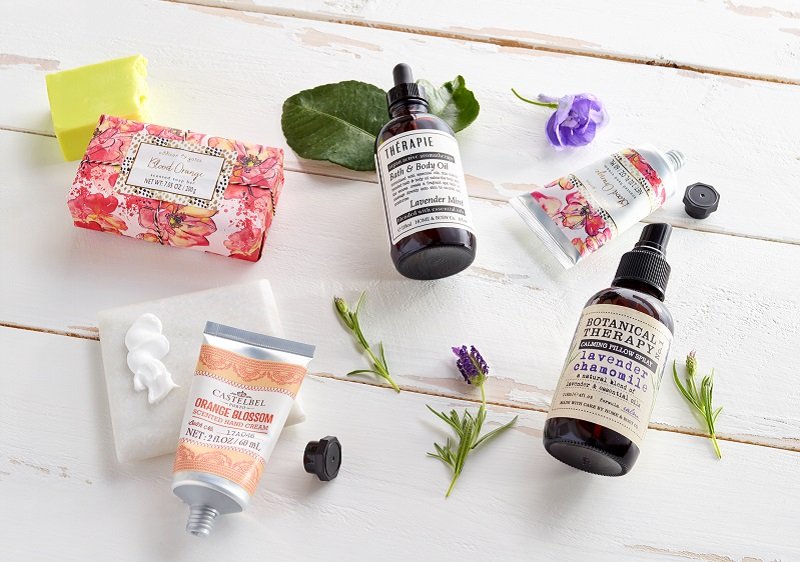 Why We Love It: Our sweet, tangy Blood Orange Bar Soap and Lotion with its uplifting citrus scent improves mood, while the calming scents of our Therapie Lavender and Chamomile Bath and Body Oil sooth the soul and the skin. And because every mom can use a great night's rest, a lavender pillow spray helps her drift away in a deep sleep.
Favorite Scent: The Lavender from the bath and body oil. The wonder herb is believed by many to reduce anxiety and stress and help improve sleep, so encourage Mom to breathe deeply during application.
Why We Love It: The ultimate in at-home spa experience, a sea-salt filled bath enhances circulation, reduces stress and softens the skin. Our mineral-rich La Lavande Sea Salt Bath Crystals come from the French seaside and are pigmented with natural minerals and gently scented with essential oils.
Favorite Scent: Soothing Ocean transports you to the seaside for an at-home vacation, without the costly expense of a ticket to Santorini. Just pour a few crystals in a warm bath, soak for at least 30 minutes, and exhale.
Why We Love It: For a burst of energy, our Coffee and Coconut Body Scrub stimulates blood flow for bright, glowing skin. The refreshing scent of Therapie Lemongrass Oil lifts your mood, and a jasmine and ginger bath provides the perfect pick me up for the day ahead or a much-deserved night out.
Favorite Scent: Lemongrass, especially if Mom needs an energy and mood boost!
Need for gift ideas? Shop more in our Mother's Day Shop and discover the perfect lotion or bath potion today!