Christmas means a lot of things to a lot people, from family time to spiritual reflection to fun and games. One thing everyone agrees on, is that the Hallmark Channel Christmas Movies are the perfect reason to throw a party!
Hallmark Channel Christmas Movies
Gather your friends and plan a Hallmark Channel Christmas Movie viewing party, complete with a hot cocoa bar. This year, there are 22 all new original holiday movies on Hallmark Channel's Countdown to Christmas. A new movie will be premiering every Saturday and Sunday night at 8pm/7c. The Countdown to Christmas programming event even features holiday movies 24/7!
Plan Your Decor
Browse World Market, either in person or online, and see what Christmas decor catches your eye. I fell in love with the little red and white rustic houses and built my decor around them. I stuck to mostly red and white accents, including the food, with some rustic touches here and there.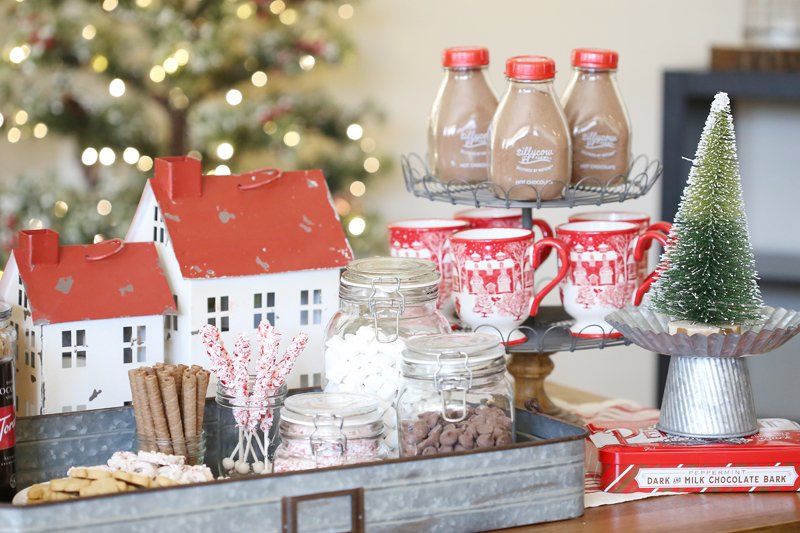 A tiered stand is a fun way to display your festive mugs and looks great on a red stripe table runner. Stack a bottlebrush tree on top of a galvanized cake stand for more dimension on your table. Because this is a viewing party, set up the hot cocoa bar on your coffee table so guests don't have to leave the living room. We wouldn't want them to miss part of the movie!
Hot Cocoa Fixings for All
The best part of planning a hot cocoa bar is deciding which mix-ins to include. World Market has endless shelves full of Torani syrup and sauces, which are a must-have for any drink bar. I personally love caramel, vanilla and peppermint syrups for hot cocoa.
Don't forget to grab hot cocoa mix, a bag of marshmallows, crushed candy canes and chocolate chips. Peppermint stir sticks add a festive touch. I recommend placing all of your fixings in glass jars, so guests can easily scoop and enjoy.
Holiday Treats for Nibbling
You'll want to put out a few munchies that guests can enjoy during the movie. World Market has no shortage of delicious snacks and Christmas party food! I found Walkers Gingerbread Man Cookies, yogurt peppermint pretzels, hazelnut rolled wafers and salted peppermint bark while roaming the aisles.
Make sure to grab a bag of Chicago Popcorn Mix, it's always a hit at any gathering and the perfect snack for a viewing party!
Hallmark Channel Christmas Sweepstakes
Cost Plus World Market has partnered with Hallmark Channel to launch a sweepstakes for a chance to win a walk-on role in a Hallmark Channel Movie! Good luck and keep an eye peeled for World Market's products while watching the Hallmark Channel's original movie Mingle All the Way. Cost Plus World Market is excited to have the opportunity to collaborate with Hallmark this holiday season, so make sure to enter the sweepstakes to be part of the Hallmark Channel Christmas movie magic!
Shop the Post: Galvanized Cake Stand | Rustic Red and White House Luminaries | Red Villa Stripe Table Runner | Bottlebrush Trees | White Chocolate Peppermint Hot Cocoa Stirrer Set | Silly Cow Farms Chocolate Peppermint | Torani Gold Syrup | Torani Vanilla Syrup | Torani Peppermint Syrup | Ghiradelli Semi Sweet Chocolate Baking Chips | G H Cretors Chicago Popcorn | Santa Mug | Yogurt Peppermint Pretzels | Gingerbread Man Shortbread Tin | Edin Wood Tiered Stand | Torani Chocolate Sauce | Torani Caramel Sauce | Salted Peppermint Bark Tin | Mint Twists Crushed Red and White Peppermint Candy | Hazlenut Cream Rolled Wafers | Glass Storage Jars