Glamorous + camping = glamping. We're quickly becoming fans of this fabulous combo! Glamping takes everything you love about relaxing outside (Fresh air! Nature! Lack of electronic stimulus!) and combines it with luxurious style. And why not add a few creature comforts to make your enjoyment of the great outdoors even greater? Bringing relaxing style to outdoor spaces is simpler than you might imagine.
Below, we'll share the top 10 essentials you'll need to add a little glamping glitz into your next outdoor gathering.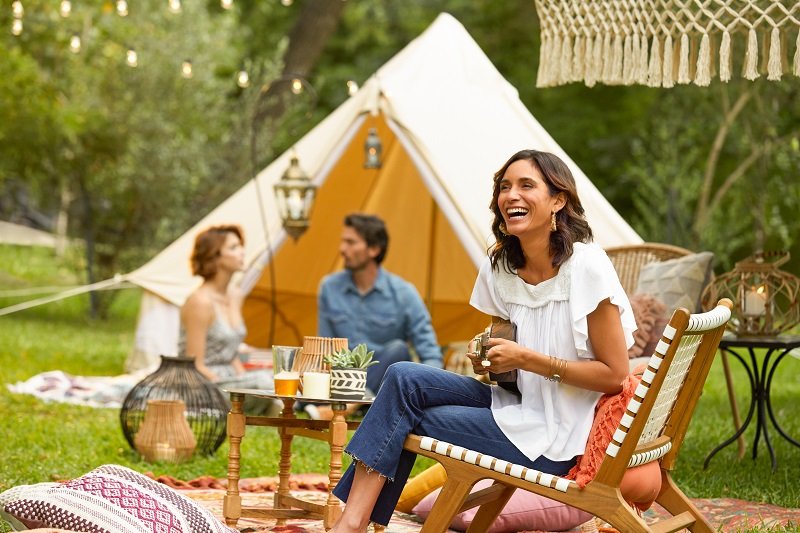 Top 10 Glamping Gotta-Haves
Outdoorsy folks and inside-kinda-people can come together in harmony with these ideas for comfy alfresco dining, entertaining and general chillaxing.
1. Acrylic Stemware & Plates
Skip the paper plates as well as any breakable dinnerware and serveware. Look instead for break-resistant outdoor entertaining essentials made from materials like acrylic, wood and other natural materials. You'll be impressed by the selection of pretty patterns and designs available. For instance, our chic acrylic stemware and glasses are perfect for raising a toast to total relaxation.
2. Plush Rugs
Add a few fab floor pads for comfy conversing. Layer stylish smaller rugs or unfurl an area rug for a plush base. If you plan to linger longer, you might opt for a few weather-friendly outdoor rugs.
3. Cozy Pillows & Blankets
Throw pillows — particularly our cute outdoor array — are definite glamping necessities. Not only do they bring a homey feel to your open-air sanctuary, they also provide inviting pops of color and design. Generously-sized floor pillows (which are often washable) and poufs serve as extra seating, and a stack of cozy blankets keeps everyone toasty warm when the evening cools.
4. Games & Activities
Bring on the day's entertainment, effortlessly. For the young and the young-at-heart, outdoor toys and games (or even some typically "indoor" games) promise a fun time for all.
5. Outdoor Cookware
Give your inner gourmet the gift of outdoor cookware and grilling gear. This is glamping after all, which means everything from extravagant BBQ and pizzas wouldn't be out of place! If you don't have access to a barbecue or a ground fire pit isn't available for cooking, you can always bring your own.
6. Fancy Coffeemaker
Forget cringe-inducing instant coffee (a sad staple of "regular" camping). Instead, warm up with a bursting-with-flavor cup of Joe freshly ground and brewed in a fancy coffeemaker, like a French Press or Chemex. There's no better way to kickstart your morning amongst nature than quietly sipping a great cup of coffee.
7. Ice Cooler
For shorter trips, a simple insulated tote may do the trick in keeping bites and beverages cool. But for extended relaxing, you'll want a sturdy cooler. Alternatively, you can stock up on eats that don't need to be chilled, and stash them in a cute picnic basket.
8. Outdoor Lighting
Light up the night for evening fun with string lights! No electricity? No problem. Go with battery-powered LED lights for mood lighting anywhere. And, few things beat the inviting glow of candlelight. Place candles inside lanterns that hang or are unlikely to tip, or choose flameless LED candles for a safe-yet-stunning effect. Citronella candles are ideal in wooded areas where mosquitos may be pesky residents — which means two birds, one stone when it comes to flickering ambience.
9. Fun Decorations
Decorative accent tables, potted plants, wind chimes or even the odd musical instrument (some gentle guitar melodies, anyone?) round out the atmosphere. Outdoor decor adds a dash of interest to encourage relaxation and conversation.
10. Chic Chairs
Eye-catching outdoor seating, including chairs and folding chairs are mainstays for all glam outdoor gatherings. We're also rather partial to hammocks — who doesn't adore those? The point is to pick comfortable pieces that bring your favorite people together.
At the end of the day, that's what glamping is all about!
Ready to get your glamp on? We've got all the greatest glitzy essentials in our Outdoor Shop.