Summer is winding down, but I love grilling season so much I think we should just keep it fired up! The barbecue burgers and watermelon can move aside for some sweater weather-inspired flavors.
This fall barbecue menu is delicious, unique, and creates a really impressive table spread with very little time or effort. Every dish is made on the grill or assembled raw, which means you can get the party started and mingle while you cook.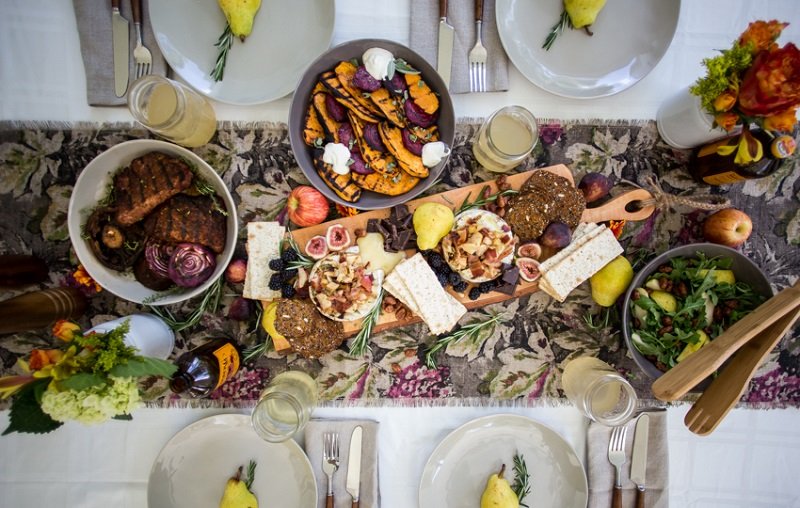 Fall Barbecue Menu:
Grilled sweet potatoes and beets with sage and creme fraiche
Arugula with pears and glazed almonds
Rosemary grilled brie with apples and bacon
Fresh fruit, chocolate, and crackers
Coffee chili rubbed steak and portobello mushroom caps
Ginger beer
The beets and sweet potatoes grill beautifully with a little olive oil, and salt and pepper. I start them first, because they take the longest. The smokiness of the barbeque enhances the sweetness of the roots, and they are so good. I like to layer them into a shallow bowl, then sprinkle with fresh chopped sage and dot with dollops of creme fraiche. The combination is unique and wonderful.
A fresh salad doesn't get much easier than tossing some baby arugula with sliced pears and adding these Sweet and Salty Cinnamon Praline Almonds. A little olive oil for simple dressing and you're good to go.
The centerpiece of the table is this gooey cheese board with rosemary grilled brie, topped with bacon and grilled apples, then surrounded by fruit and crackers. To make the brie, rub the rind with a little olive oil and fresh chopped rosemary, then place directly onto the grill grates. Add some bacon and sliced apples to the grill as well. After a couple minutes, turn the cheese wheel over, then remove onto a large wooden cutting board. Chop the bacon and apples to pile on top.
Once the cheese is in place on the board, add small piles of crackers for dipping. This rosemary sea salt flatbread pairs perfectly, and I also love these fig and black sesame crisps. Next, add a couple piles of sea salt dark chocolate, and some fresh berries and cut figs. Sprigs of rosemary and whole fruit spilling out around the food creates an abundant, beautiful spread.
The steak and portobello caps are both rubbed with a generous amount of coffee chili rub, then grilled. I like to add some thickly sliced red onion drizzled with olive oil to the barbecue to serve alongside.
I love ginger beer, and drink it year round. Though it feels especially fitting for a fall barbecue with its subtle spicy sweetness. Fill the glasses, and leave a few out on the table for refills.
For a festive tabletop, in addition to the delicious food, you'll need some beautiful dishes and flatware. I like to use mason jars as unique glasses, and layer a fall table runner over a versatile white tablecloth. Natural linen napkins add texture and warmth. A couple small vases of fall flowers is always a good idea.
Then, to tie it all together, add a stemmed pear half, cut side down, onto each plate with a sprig of rosemary. Cheers to fall!
Shop the post: Stone Gray Element Dinnerware | Charcoal Element Serving Bowl | Flatware | Mason Jars | Table Runner | White Tablecloth | Natural Linen Napkins | Vases | Wooden Board | Sweet and Salty Cinnamon Praline Almonds | Rosemary Sea Salt Flatbread | Fig and Black Sesame Crisps | Sea Salt Dark Chocolate | Ginger Beer