This year, nix the same ol' flower bouquet, and forget yet another breakfast in bed treat for Mom. Instead, celebrate her awesomeness with a Mother's Day gift that scores an 11 on the originality scale: A DIY Jewelry Hanger!
We adore this idea because unlike the tried-and-true gifts we always give, this one is long-lasting (right, wilted flowers?) and it can be customized to fit her taste to a T with colorful knobs, a little paint and some creativity. Plus, since nearly every Mom we know owns an ever-growing jewelry collection, this handy little gift is eternally useful to boot. It's also simple to put together!
5 Steps to a Jazzed Up Jewelry Hanger
What you'll need:
Frame of your choice
Peg board
Paint and materials that you want to use for a personalized design on the peg board.
Hot glue gun
Step 1: Gather materials and begin creating your own custom design on the peg board. We used gold paint to match our frame and created a fun geometric pattern.
Step 2: Deconstruct the frame by pulling off the backing (you will not be re-using this).
Step 3: Hot glue gun the inside of the frame and place down the pegboard.
Step 4: Begin laying out where you want the knobs to go. We didn't screw ours on until we saw them all together so we could make sure the spacing was right.
Step 5: We cut the back off of the knobs (since they are so long) with bolt cutters.
Presto! A fabulously original work of useful art to make Mom's Day amazing.
Surprise her by adding a few necklaces for her collection!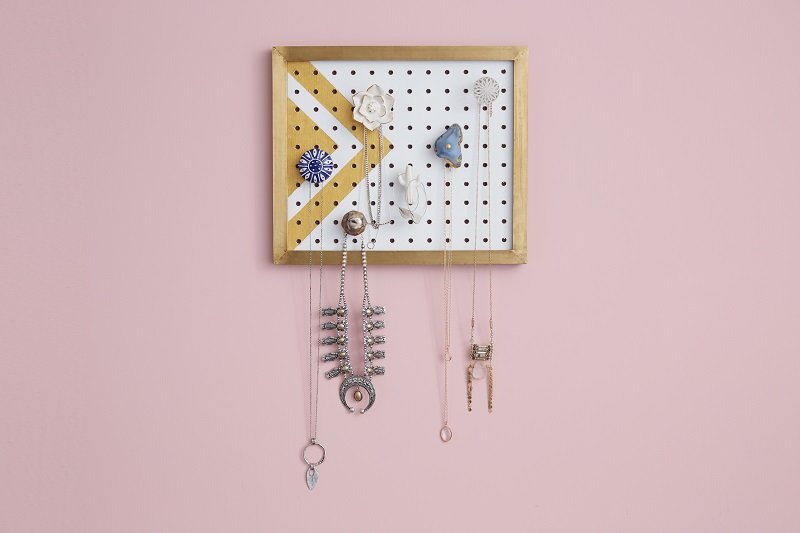 Find more Mom-worthy DIY gift inspiration here, or shop our Jewelry Displays and Mother's Day gift!