Springtime is around the corner, which means it is time to figure out your festival fashion! The most quintessential accessory for music and art festivals (or just lounging around at the park) is a DIY flower crown.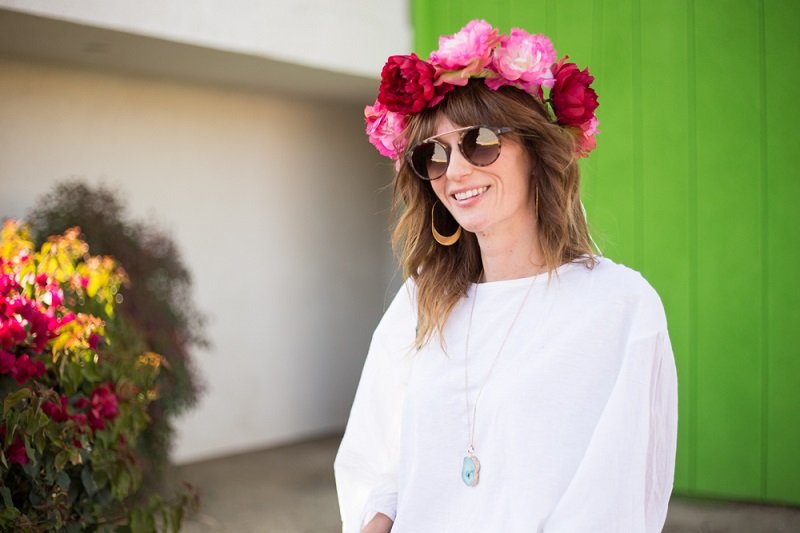 This colorful faux DIY flower crown makes a big impact and completes a boho outfit with a bit of whimsy. Unlike a fresh crown, it'll wear well for days (even weeks!) in a row, so you can make yours just once and enjoy it all season long.
It was fun to see some fresh new boho styles on the rack at my local store– every piece paired well with our DIY flower crown for the perfect festival look. The project is simple to assemble with just a glue gun, so dig one out and start crafting!
Getting Started on a DIY Flower Crown
Step 1: Remove the flowers from their stems, pull the wire stems through the plastic holder, and cut them in half at the center.
Step 2: Glue each flower back to a thin, cut stem and let dry.
Step 3: Wrap the ends of the two floral wires together, to make one straight wire. Then using the wire, measure around your head (or the head of whomever will wear the crown) and twist the other ends together making a circle.
Step 4: Tie a loop into the end of the twine, and thread it onto the wire, making a knot.
Step 5: Bend each flower at its glued end, and lay one against the wire, right next to the twine. Hold the flower stem with one hand as you wrap the twine around the stem with the other.
Step 6: Add another flower just before the end of the first stem.
Step 7: Repeat the above steps until all of the flowers have been added. There will likely be a few inches of space in the back to continue wrapping with the remaining twine.
Step 8: Starting in the front and center of the crown, begin loosely wrapping the ribbon so that it covers the wire. Where the ends meet in the center back, tie a knot and trim the ends to even on an angle.
Step 9: Fluff and arrange the flowers, hot gluing petals in place as needed.
Step 10: Rock your new DIY Boho Flower Crown all spring and summer long!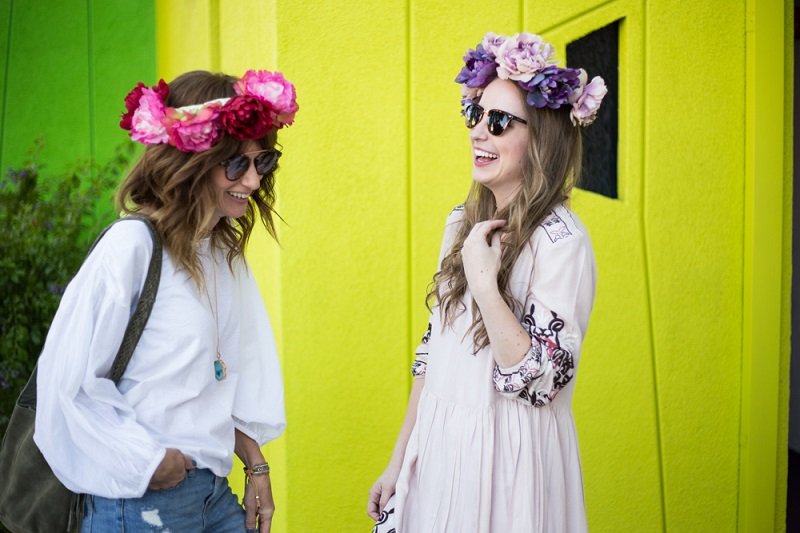 Shop this post: Faux Peonies | White Iryna Top | Geode Necklace (in store) | Crescent Hoop Earrings | Silver Beaded Bracelet | Gold Choker Necklaces | Olive Leather Bag | Blush Embroidered Dress
Discover all the great food and drink you need for this season's outdoor festivals!