We've all gifted the classic gifts for Mother's Day: a spa day at home, breakfast in bed, or carte blanche for Mom to leave the kids with somebody else for the day. Here's another heartfelt find to add to your gifts-for-her arsenal: DIY Flower Bulb Mason Jars.
Easy to make in just six steps, these live plants are sure to brighten up Mom's day—and any tabletop! Gift it alone or as a complement to other personalized gifts and make this Mother's Day the year you give Mom something beautifully handmade.
What you'll need:
flower bulbs (we used pink calla lilies, purple hyacinths, tulips, and daffodils)
soil (the mason jars won't have any drainage, so choose a variety with good moisture control)
scissors
A few notes:
Bulbs need to be chilled in order to force growth out of season. If you don't have time to put the bulbs through a chilling period yourself (this can take a few weeks, depending on the bulb variety), consider buying pre-chilled bulbs from a local or online nursery.
If you're not ready to plant chilled bulbs right away, they can be stored in the fridge until you are ready. Just keep them away from fruits! Remember, the bulbs are living plants; leaving them out can cause them to mold and not grow properly. Plant or chill them right away.
Finally, do research and check to see how deep your bulb should be planted. Different bulbs require different soil depth, so make sure you know how much soil your bulb choice will need (this will also help determine your choice of vessel).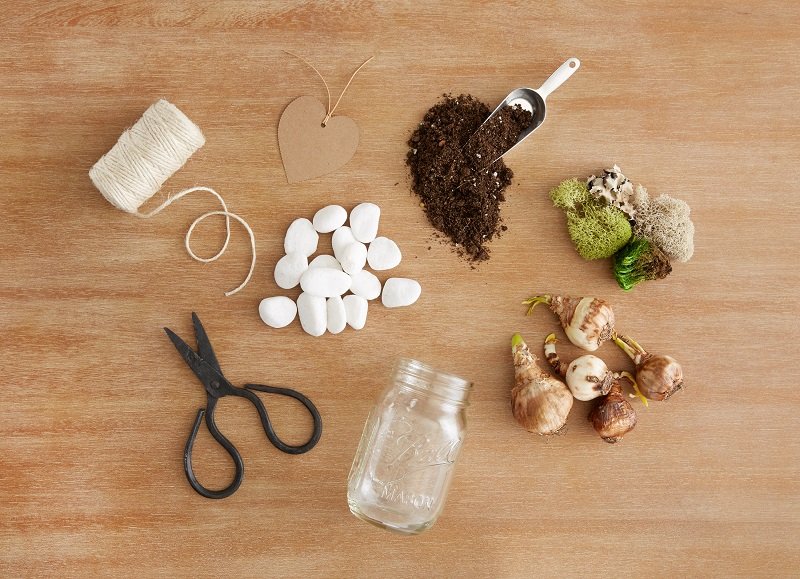 Step 1: Open your mason jar
Step 2: Pour rocks inside
Step 3: Cover rocks with soil
Step 4: Place bulb in the center of soil; cover with more soil. Don't be afraid to plant more bulbs than you need! Some bulbs will not grow at the same rate, and may not even grow at all. Planting extra bulbs will make sure you have the perfect one for Mom.
Step 5: Place moss over dirt
Step 6: Personalize it for your Mom
Done!
Watch your flower bulb grow over the next few weeks, and be patient. It takes time for bulbs to flower. The exact amount of time will be dependent on the bulb choice. Make sure to set the bulbs in a temperate room where there is indirect light, and water as needed.
Don't be afraid to give Mom a bulb that's just starting to grow; it's exciting to be able to watch a new flower form from a small sprout.