Bay Area blogger Jessica Doll has been working on her side yard for seven years. The yard has housed a stock tank pool, a sandbox, and a garden, to name a few things, but after these iterations, the blogger finally put in hours—and hours—of work to create the outdoor patio area of her dreams, one that's ready for sunset sips, cookouts, and weekends entertaining friends and family.
Take a look at her before and after shots below, and read her tips for getting the outdoor patio you've always wanted, after the second jump!
Before:
After: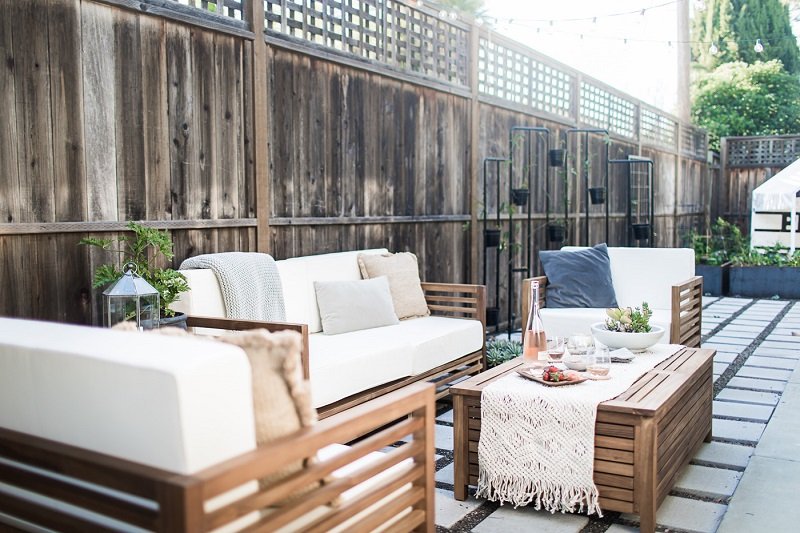 Outdoor Patio Styling Tips:
1. Have a plan.
It's best to have a well-thought out plan, including how your space will function, and what type of outdoor look you're going for. Include lists and estimates for any larger projects, and create a mood board for the final look.
2. Make a list of materials.
You will probably make lots of trips to the hardware store, but you can cut down on quite a few trips if you plan ahead and rent a big truck, and if you come with a firm idea on what you are planning on getting. Measure, re-measure, and measure again to estimate how much you will need of any given material and try to do it all in one big trip. If you have little ones, save yourself some sanity and hire a sitter for a few hours while you comb the aisles of your favorite hardware store.
3. Don't order decorative items too soon.
If you end up getting excited, make sure you have a place to store your decor before they're ready to assemble.
4. Complete large projects first.
Jessica had to wait until her grid paver area was finished before bringing in the furniture, which ended up in other areas of the yard, patiently waiting to be moved to its final spot.
5. Bring in larger pieces of furniture first, then layer in your decorative items.
Just like decorating a room inside your home, bring in the larger furniture before going crazy with decorative items or plants. You'll want to see how the larger pieces fit in the space before buying lots of accessories you might not end up using.
Shop this post: Praiano Outdoor Collection | Clear Bulb String Lights | Macrame Table Runner | Large Live Succulents| Small Live Cacti | Flameless Pillar Candle | Natural and Gold Indoor/Outdoor Pillow | Fringed Indoor/Outdoor Pillow | Gray Velvet Throw Pillow | Ivory Throw | Light Gray Napkins | Olivewood Cheese Cutting Board | Acrylic Stemless Wine Glasses | Gray Bowls
Love what you see? Get more inspiration on Jessica's blog, Hej Doll.