Dining as a family is cherished time during our crazy-busy weeks. It's a time where we can all sit together, relax and reconnect. Recently, we put together a fun dinner, just for them, and I wanted to share a few tips I have to make dining with little ones as stress-free as possible.
1. Use non-breakables
You wouldn't believe how beautiful acrylic pieces can be, and we absolutely love using acrylic tumblers, bowls, and other tableware because they're difficult to break. This makes meals absolutely worry-free, especially when little hands try to grab at plates and carry them to the table, or use "big boy" cups to drink out of!
2. Cater to your child's interests
Do your kids love animals? Are they into cars and trucks? For my boys, it's all of the above. Recently they've really loving fire trucks—so they were so excited when they noticed we used the Fire Engine Tableware Sets for our special dinner. We also picked up some adorable Fireman Dog Beverage Napkins to fit the theme! They were really thrilled, and they both felt so special.
3. Get artsy!
Do your kids have a hard time sitting still waiting for dinner to be served? I know mine do! My solution was to make that time before dinner, art time. I jazzed up a Wood Isla Trug by filling it with glass mason jars, and then filling the jars with various markers, including the Washable Jumbo Marker sets.
We also love using the Create and Doodle Art Paper Rolls as coloring placemats. Each roll includes 50 sheets of paper (we use two per "placemat") so your kids will be coloring and having fun for weeks to come. Using the wooden trug to store everything makes it a breeze to pull out when you're ready to use it. A bonus: the trug neatly separates all of your kids' art supplies!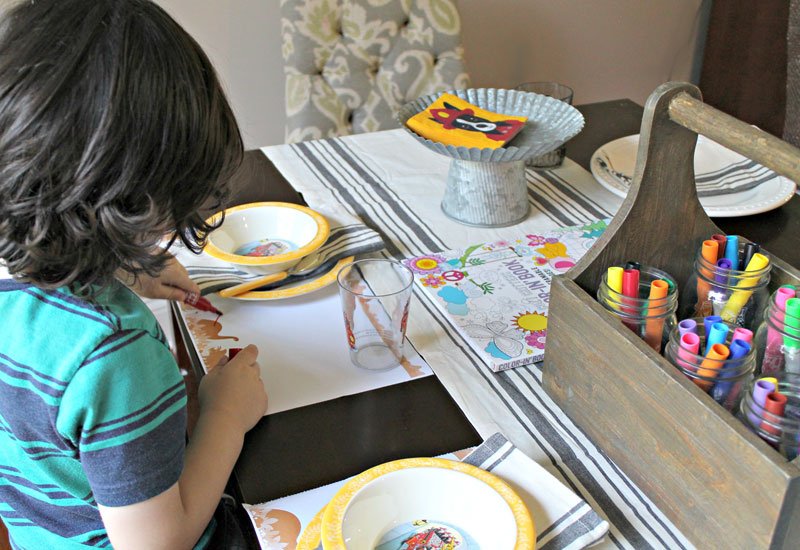 4. Encourage table talk
It's important to ask your kiddos questions while dining. Ask them what their favorite part of the meal is, what their favorite part about their day was, and get them talking. End the day on a positive note by encouraging them to reflect back on the things they enjoyed. My kids love to point out the different things we're eating for our meal and the different colors of the plates—all of the things they notice at the table. Dining is always more enjoyable when you've got great conversation, so encourage your little ones to chat!
5. Make cleanup easy
Make clean up easy for everyone in the family by putting a portable tub at the end of the table. When they're done eating, they can easily place their glasses, plates and utensils in the tub. Then, simply carry the tub over to the dishwasher or sink and load! We love using the Galvanized Party Tub because it's meant to be filled with ice, so it doesn't matter if it gets wet. Plus, the tub is a breeze to wipe clean after each use, and it's cute!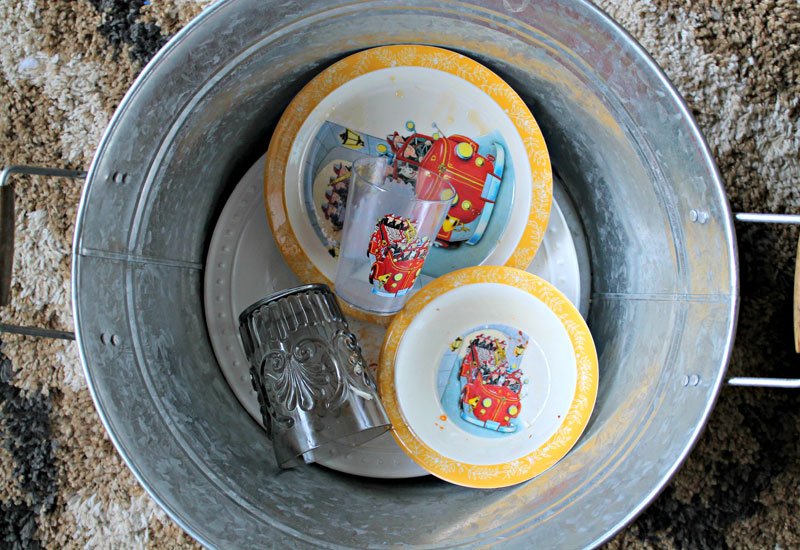 Do YOU have additional dining tips that make dining with your kiddos easier? Leave them in the comments below!