The holidays are for giving, eating and thanking, in whatever order you choose. If you're in charge of the "eating" part, though, it can be really overwhelming. Especially on Thanksgiving! The secret is preparation, preparation, preparation. Here are five Thanksgiving prep tips that will help ease your stress this Eating Season.
Thanksgiving Prep Tips….Go!
1. Plan your menu 2 weeks ahead of time
Don't leave your menu planning until the last minute! Once you have a guest list for your Thanksgiving meal, take note of any dietary restrictions, and then begin planning your menu.
If you're hosting guests that are gluten free, most recipes for roasted vegetables, mashed potatoes and turkey should all be gluten free. You can make gluten-free stuffing by substituting gluten-free white bread. If you're making cornbread stuffing, prepare the cornbread with gluten-free flour.
If you're hosting guests that are vegetarian, make sure to use vegetable broth for any recipes that call for turkey or chicken broth. Unless adding bacon or another protein to vegetables, most Thanksgiving Day recipes outside of the turkey should be vegetarian.
When planning how much food to make, for the turkey, the general rule is 1 pound per person, so if you're hosting 12 people for Thanksgiving dinner, you'll need to prepare a 12 lb. turkey. For mashed potatoes, you'll want a ½ pound of raw potatoes per guest, so if you're hosting 12 people, you'll need 6 pounds of raw potatoes to make your mashed potatoes.
Depending on how many other sides you'll be serving, ¼ – ⅓ lb. of vegetables per person is a good measurement to follow. If you're making several sides, you can plan ¼ lb. per person, if you're only making 2-3 sides, plan ⅓ lb. per person.
2. Grocery shop one week before Thanksgiving 
The best Thanksgiving prep tips are simple: don't be the person two days before Thanksgiving fighting the crowds at the grocery store and needing to run all over town to find the right size turkey, a bag of cranberries and fresh sage. Because so many families prepare similar meals for Thanksgiving, a lot of the common fresh ingredients and turkeys will run out days before the holiday, so plan your trip to the store a week in advance.
You can even save yourself more hassle and order your groceries online to be delivered a week before Turkey Day!
Shopping lists will vary based on the dishes you're preparing, but some of the most common ingredients you'll need for Thanksgiving dinner are a turkey, celery, onions, garlic, green beans, fresh thyme, sage and rosemary, cranberries, potatoes, stuffing mix, white bread or cornbread for the stuffing, Brussels sprouts, yams and apples.
3. Make sure you have all of the necessary tools 
While you'll need commonly used kitchen tools, like a chef's knife, measuring spoons and spatulas, you'll also need less commonly used tools like a potato masher, vegetable peelers and thermometer.
For cooking, you'll need various casserole and baking dishes, like this White Ceramic Pumpkin Casserole Baker, this Large Speckled Ceramic Baker, these Au Gratin Bakers, these Small Ceramic Pumpkin Bakers, a Large Pastel Ceramic Baker and this Textured Nonstick Baking Sheet.
The combination of these dishes will give you a place to create your green bean casserole, roast your veggies, serve your mashed potatoes and bake your rolls!
For serving, you'll need various stands, trays and cutting boards to serve charcuterie, appetizers and cocktails.
4. Prep food ahead of time 
With limited time on Thanksgiving Day to prepare your feast, I highly recommend prepping as much as you can ahead of time. The turkey should begin to brine 24 hours ahead of time. Depending on the size of the turkey, you will need to begin roasting it 3-6 hours before dinner, always allowing at least a 30 minute rest period before carving the turkey.
Pies can be baked a day or two ahead of time and charcuterie boards can be assembled, wrapped in plastic wrap and placed in the refrigerator the day before Thanksgiving.
I also like to chop, dice and shred vegetables like celery, carrots and onions the day before, then store them in small prep bowls with lids in the refrigerator. This really speeds up the cooking process on Thanksgiving Day.
5. Make side dishes and desserts in a slow cooker
For the fifth and final Thanksgiving prep tip, and one of my favorites, I recommend turning to the slow cooker on Thanksgiving Day. With only one oven, space can fill up quickly, so turn to your slow cooker to help free up space in the oven. The other great thing about using a slow cooker on Thanksgiving Day is that you can start the slow cookers in the morning, then set it and forget it until dinnertime!
Did you know that you can make cornbread, brownies and stuffing in your slow cooker? It is so easy and if you line your slow cooker with foil or a liner, it makes clean up a breeze!
Thanksgiving prep tips boil down to: plan, buy, chop and enlist your slow cooker. Done!
For tons of delicious Thanksgiving recipes made in World Market casserole dishes, in the slow cooker and beyond, visit WhitneyBond.com!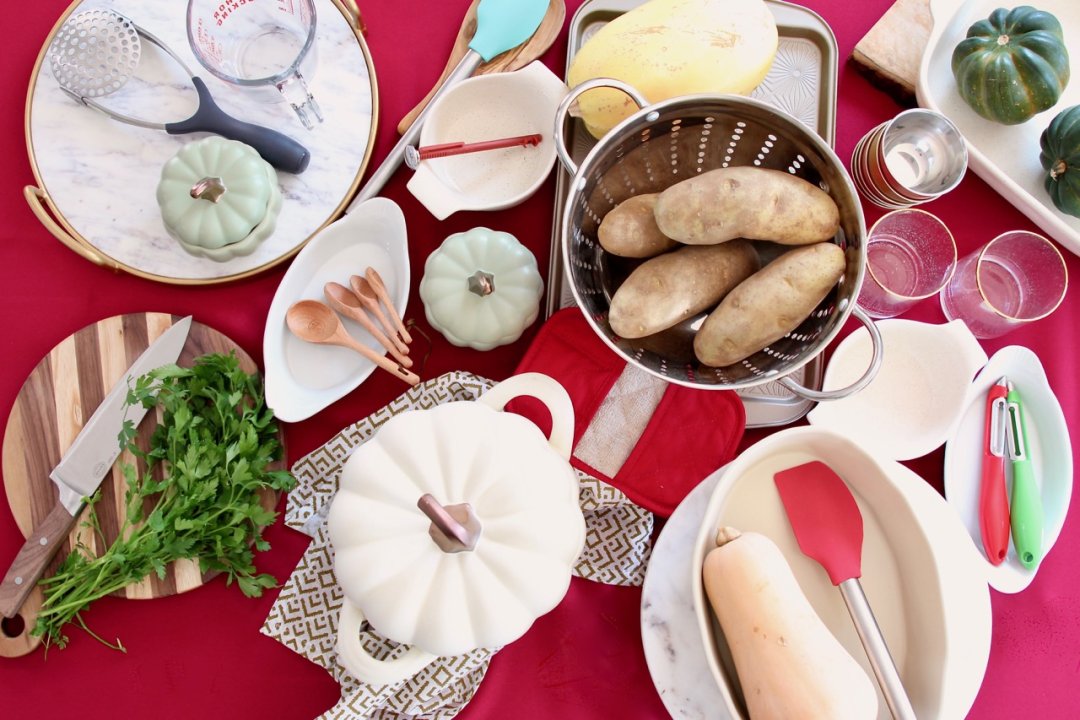 Shop the Post: 8″ Stainless Steel Chef's Knife | Nesting Measuring Spoons | Red Silicone Spatula | Folding Potato Masher | Vegetable Peelers | Pocket Thermometer| White Ceramic Pumpkin Casserole Baker | Large Speckled Ceramic Baker | Au Gratin Bakers | Small Ceramic Pumpkin Bakers | Large Pastel Ceramic Baker | Textured Nonstick Baking Sheet | Gold and Marble Pedestal Stand | Gold and Marble Tray | Raw Edge Wood Panel Cutting Board | Small Prep Bowls with Lids | Gold Rimmed Bubble Glasses | Round Walnut Cutting Board | Stainless Steel Colander | Natural Wood Measuring Spoons | Wooden Spoon Rest | Red Potholder | Gold and Marble Stand | Festive Napkins | Glass Measuring Cup