Today I'm sharing my spring cleaning tips and how you can get your kitchen in tip top shape! Spring is the perfect time to declutter, reorganize, and start fresh. Creating a home with elements of Hygge, which is all the rage right now, means making your home cozy, clean, welcoming, and simplified. I have embraced Hygge in my home and highly recommend this Danish concept.
Here are a few tips on how I get my kitchen sparkling clean!
Tip #1: Remove Your Jewelry & Create a Dedicated Space to Store Them
Before I clean, I remove my jewelry (rings, earrings, bracelets) so they don't get gunky from cleaning. Are you like me and sometimes forget where you put them when you are done cleaning? I tend to find the most random places and thank goodness I have never lost them, but I realized that a perfect solution is making a dedicated space to store them. This beautiful green bowl is the perfect little spot to store them. Now I will always know where they are.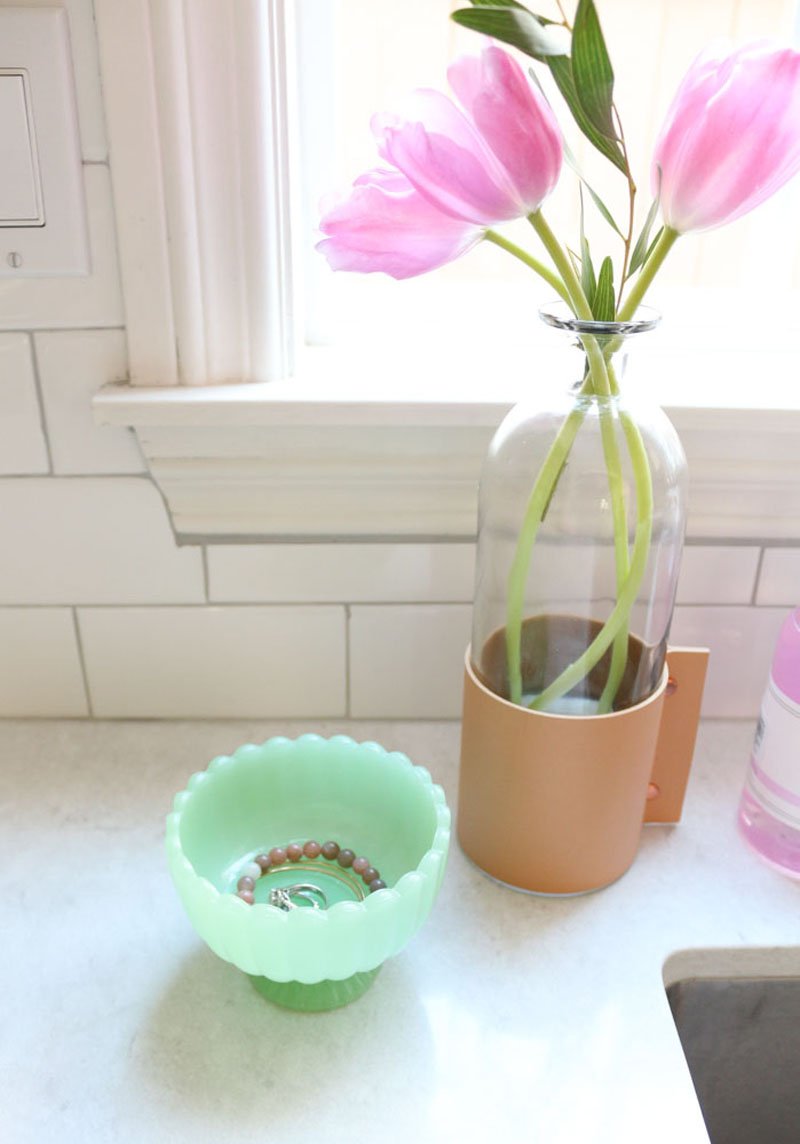 Tip #2: Remove All Objects & Organize Clutter
My next tip is to remove clutter and objects from your space. For example, in the kitchen I remove everything from the countertops. If I am cleaning the bathroom or family room I clear all the spaces to make sure I get in all the little nooks and crannies. I love using bins to store and organize the papers that collect through the week. Every Sunday I make a point to go through them and purge what we don't need and file what we do need to keep. This bin from World Market is sturdy enough to hold papers and anything else you want to store throughout the week. It is also pretty, stylish and adds a pop of color.
Tip #3: Organize Your Cleaning Supplies
I keep my cleaning supplies corralled in a storage caddy for easy access. This way I don't have to search all over my house for the different types of cleaners I use. This storage caddy is perfect for keeping all different cleaners organized. My favorite ones to keep on hand are an all-purpose cleaner, window, bathroom, stainless steel cleaner, and extra dish soap.
Tip #4: Elevate Your Cleaning Game with Stylish Tools & Containers
You can store new sponges in this pretty little pineapple container and keep rolled towels in this adorable mint green storage caddy. They look stylish and keep everything organized. I also added a hook to the inside of my cabinet to hang my dust pan – when I open the cabinet it is easy to grab!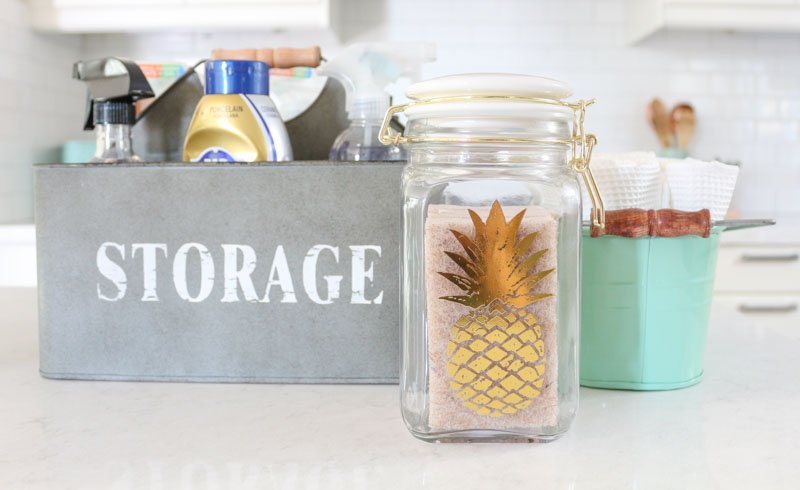 Tip #5: Reorganize and Declutter After Cleaning
Once everything is clean I decide what should go back. For example, do you really need to keep everything out on your countertops or can you store a few things? Better yet, can you sell or donate the items you might not even need or use? For the items that you choose to leave out on your countertop, find ways to store them in a way that is stylish and organized. I use a mason jar for my spoons and ladles.
Tip #6: Add a Few Spring Elements for a Fresh Look & Reward Yourself for Job Well Done
When I'm finished cleaning, I like to thoroughly wash my hands and apply a nourishing lotion. I love adding fresh flowers, succulents and a pretty towel. These little touches give the kitchen a fresh spring look. A jute rug brings in a natural element, texture, and feels great to stand on while doing the dishes. Candles are great for that Hygge feel and will make it feel extra cozy. I'm obsessed with this leather wrapped vase – it is perfect for holding spring tulips! Now it's time to sit back and take in how clean and refreshed your home is – do a little happy dance to celebrate! Enjoy the moment and give yourself a pat on the back – you deserve it!