It's summertime and the outdoor living is easy! If you're like us, you love to revamp the look of your outside gathering spots a tad before settling into full leisure mode during the sunny season. And your annual backyard refresh doesn't have to break the bank, either. Here, we've collected our top tips for updating your patio style on budget, and on trend.
1. Break Out of Old Patterns
One of the simplest ways to create instant newness is via playful-patterned throw pillows. There's a huge range of colors, shapes and sizes available to suit your style and relaxation needs. Most outdoor throw pillows also feature removable inserts, so swapping out the old pillow covers for something new and vibrant is a breeze.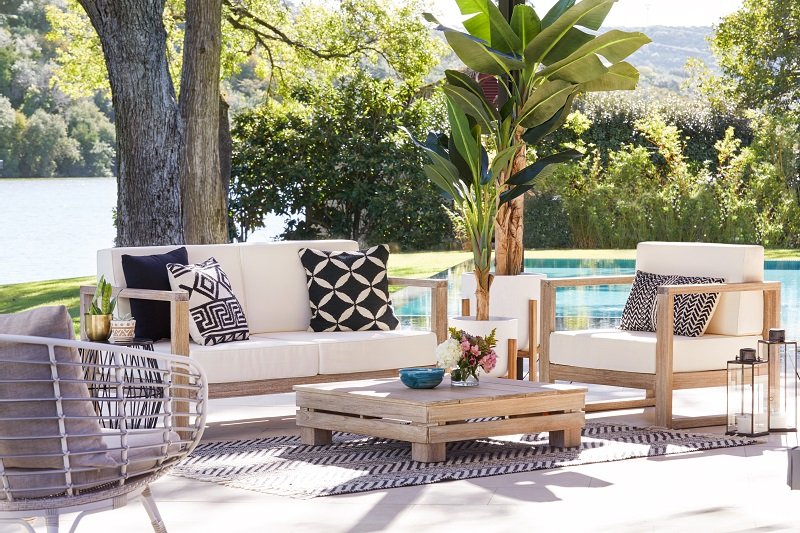 2. Light Up the Night
Lanterns, candles and string lights create a soft glow to imbue your outdoor sanctuary with a cozy, magical vibe. They're absolutely perfect for evening gatherings with friends or family. Citronella candles pull double duty by keeping pests away, and solar power string lights (no electric outlet required!) are positively dreamy when draped over tree branches, patio railing or bushes.
3. Please Your Feet
Outdoor rugs are a fantastic way to bring a dose of dazzling design to your deck. They're often crafted of PET, a.k.a. recycled bottles, which makes them super easy to clean. A few padded poufs can serve as extra seating, and they're perfect for putting your feet up at the end of a long day. Of course, one of our favorite pouf perks is that they come in an array of gorgeous patterns, hues and textures. And rugs look great overlapped, so you can easily add or subtract a few to change up the look throughout the season.
4. Revive Outdoor Living Furniture
Removable cushion covers are a snap to clean, which score huge points with us! We're fans of anything that helps refresh outdoor furniture in the face of the inevitable summer spills, dirt and even mildew. However, you may want to ditch and replace any pillows, cushions inserts or cushion covers that have truly seen better days.
The upside of replacing the old? Finding a fabulous NEW outdoor living look to help you kick back and relax in your own personal summer paradise!
Take your indoor style outside with these perfect patio picks!