Farmhouse style is everywhere right now! I think farmhouse style really resonates with people because the look is all about creating a space that is charming, cozy, functional, and has tons of character. Farmhouse style creates a feeling of familial comfort and evokes memories of sipping sweet tea, cooking in the kitchen and making wonderful memories with those you love.
Today, you don't have to live on tons of acreage with cows in your backyard to get the farmhouse feel. Let me share four simple ways to add farmhouse style to your own space.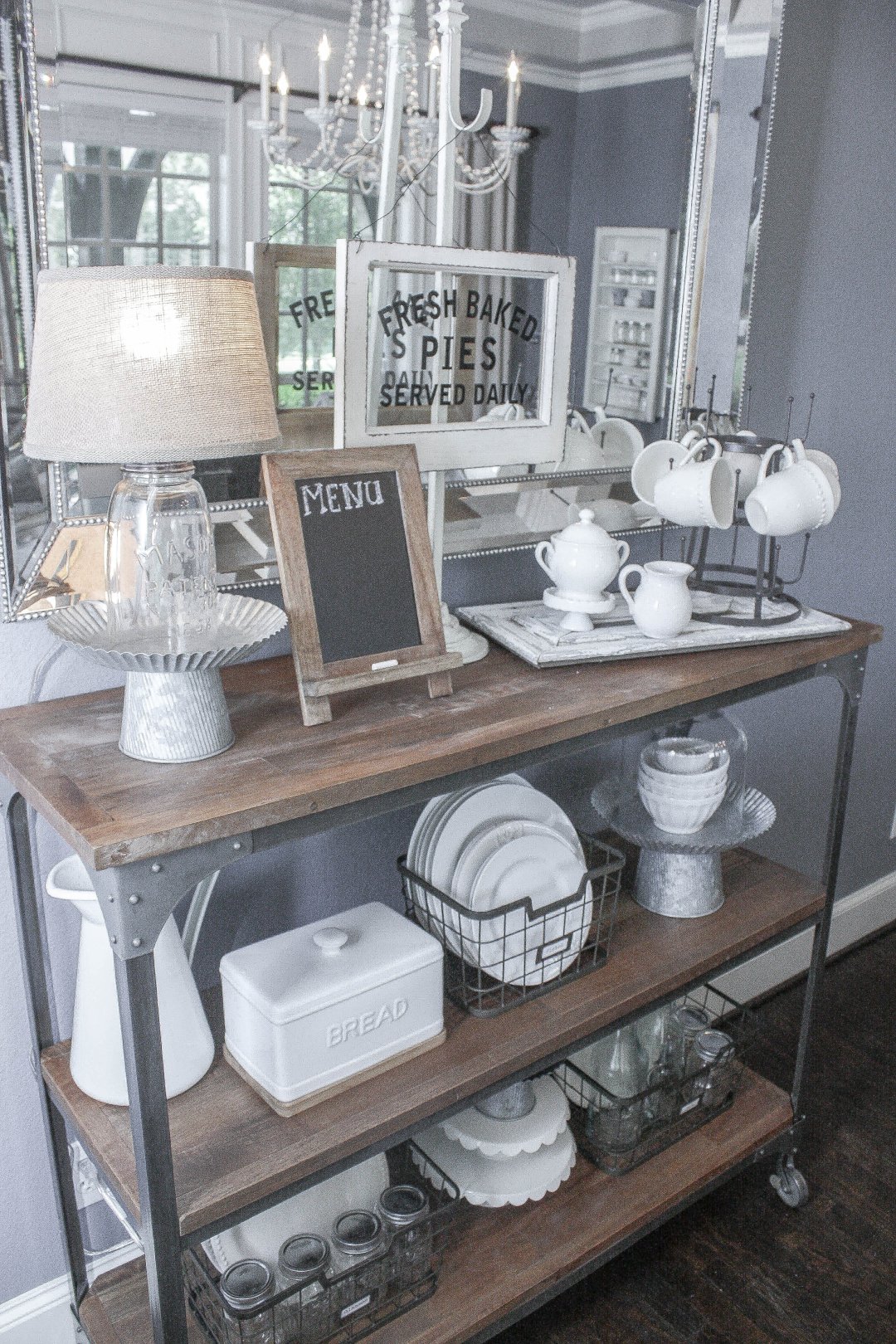 1. Pick pieces that are versatile
I love the Aiden 3-Shelf Console Table because it can be used with so many different things in your home. Here, I used it as a buffet table in the dining room, but you can easily move the table to other areas of your home as your needs change. The table would make a beautiful bookshelf, entryway piece, and even a media stand. Its design is simple, with clean lines and a distressed finish that sets the perfect backdrop for the rest of your decor. The combination of wood, metal and casters really embodies the farmhouse feel, don't you think?
2. Mix textures
Combining wood, metal, glass, ceramic, and natural fibers really adds lots of dimension to your space while still keeping it neutral. Here I used a burlap lamp shade with a glass mason jar lamp base, barn wood under my mug rack, lots of white dishes, and galvanized metal cake stands. The overall look is rustic and interesting without being too busy; all of the textures blend well together.
3. Use and pepper in functional items 
One of the appeals of farmhouse style is how simple and functional it is; you can use your everyday plates and glasses as decoration, and you no longer have to hide these items behind cabinets. Kitchen utensils, serving platters and pitchers are all part of farmhouse decor.  Here I use these adorable espresso wire baskets to store my dishes and glasses.  The mug rack holds all of my coffee mugs so they are easily accessible when I need them, but also look great.  My lamp needed a little height so I just added a galvanized cake stand below it.
4. Mix old with new 
Hit up your local flea market or antique store and find unique pieces to add to your decor: a vintage scale, an old paint can, and even a chicken feed! Flea market finds usually have years of history behind each item, and every chip, dent and crack tells a story. Today, there are lots of new items made to look old and distressed. I love the wood and glass pies sign because it looks like an old window, and the espresso wire baskets have an aged patina. It's easy to get creative: try stacking vintage books on top of each other and placing the stack under a new picture frame, or using a vintage wine crate for storing pillows and blankets.
Here are some of my favorite farmhouse decor items. Add these items to your home for instant farmhouse charm!
Shop this post: Wood and Metal Aiden 3-Shelf Console Table| Mason Jar Lamp Base | Espresso Wire Samuel Baskets | Hardware Bin Lazy Susan | Cow Milk Bottle | Ivory Amelie Cake Stands | Sebastian Crates | Galvanized Cake Stands | Ceramic Bread Box with Wood Cutting Board | Mini Owen Easel Chalkboard | Wood and Glass Pies Sign | Black Villa Stripe Towel | Kraft Berry Containers | Wire 3-Tier Glass Drying Rack | Everett Foyer Table | Grey Bordered Chunky Woven Jute Rug | Wood Beaded Corinne Chandelier