If you have a serving tray tucked into a cabinet, collecting dust, waiting for the next special occasion, then you need to listen up.
Serving trays aren't just for breakfast in bed anymore. One of the most useful and versatile items in your home, they can be incredibly helpful in organization, decoration, and logistics.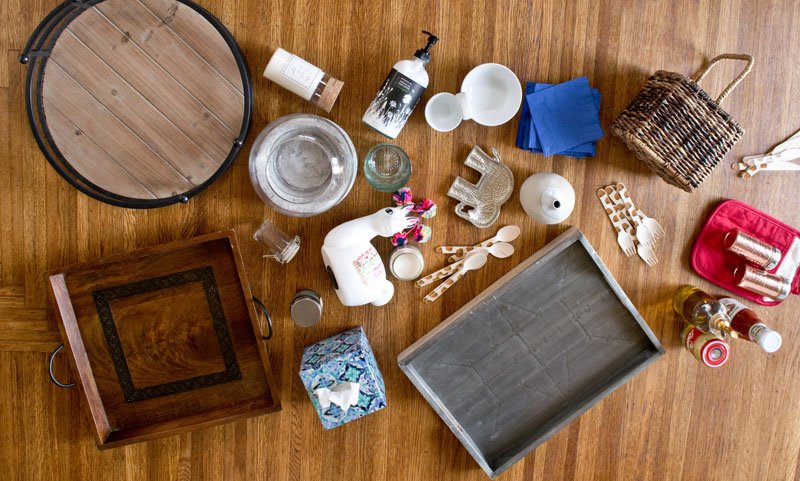 Check out these three great uses for a serving tray:
1. The nightstand
I don't know about you, but my nightstand is a constant mess of tissues, hair ties, magazines and partially empty water glasses. When I'm half asleep, I tend to just throw things wherever. That is, until I got organized with a serving tray.
By outfitting this compact serving tray with perfectly sized compartments for my hair ties, ear plugs, and medications, as well as nightstand specific tissues, lotion and a water glass, I finally got my nightstand nightmare under control. No more miscellany! Now my nightstand is always organized and pretty.
2. The grill caddy
Outdoor entertaining season is right around the corner and it's time to start thinking about all the delicious meals you can create on the grill. In our house, we like to cook and eat outside, so we turned our serving tray into the ultimate outdoor entertaining caddy.
We stocked it with tongs, oven mitts, oil, and all the flavor necessities for grilling, as well as napkins, disposable serving ware, and condiments that allow the chef to move seamlessly from the grill to the picnic table.
3. The moveable centerpiece
A beautiful floral arrangement is just one type of centerpiece. We all have keepsakes in our home that we'd like to display as well, so I've combined the two into a serving tray centerpiece that can be updated for each season, and moved around your home as a group.
I started with a neutral serving tray that creates a backdrop for all my keepsakes. A round glass terrarium can be filled with succulents or tropical plants in the summer, fresh flowers in the spring, or even a tiny winter village scene during the holidays. A small stone vase allows for more seasonal greenery or color, while a statement trinket dish can hold treats like gemstones, candy or seashells. Candles can set the mood in any room, so swap them out as your centerpiece tray moves around your home and your moods shift. Finally, I believe every good display needs a conversation piece, so I chose this fun alpaca coin bank, which reminds me of my travels in South America.
If you've got a serving tray stored away, now is the time to break it out and give it a new life. Freshen up your home and get organized with chic serving tray displays in every room.